Oh my gosh, this vintage dresser was a challenge. It was basically ready for the trash, broken drawers, a chipped top edge, water damage and many other chips and scratches. As usual, I saw the beauty in this ugly duckling and the makeover began.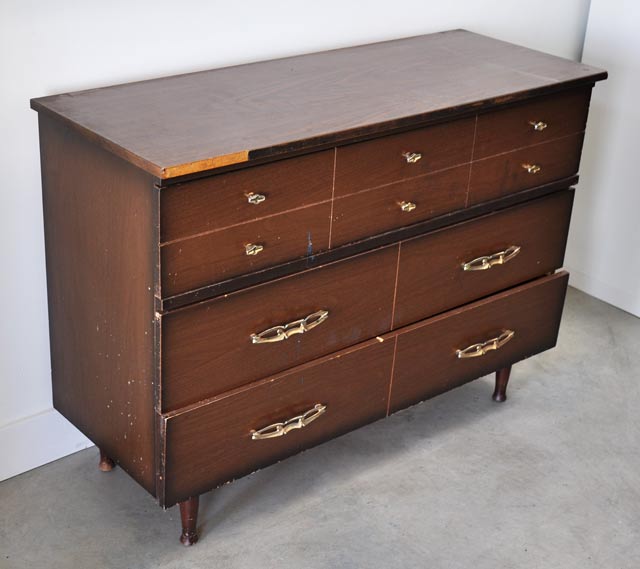 Can we take a moment to admire the ugly dark fade on the edges of the faux wood laminate.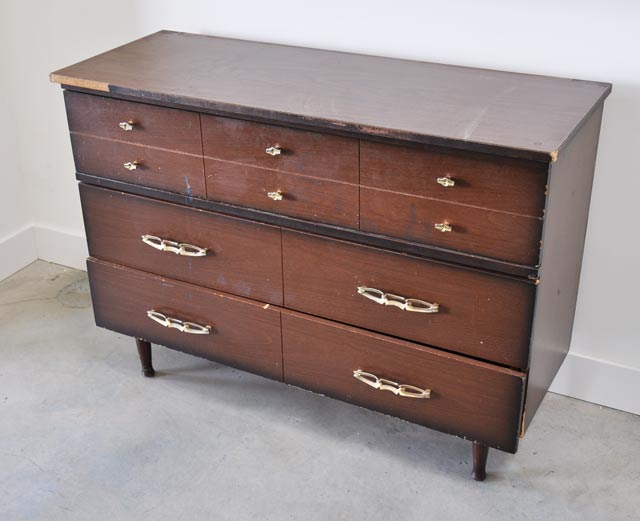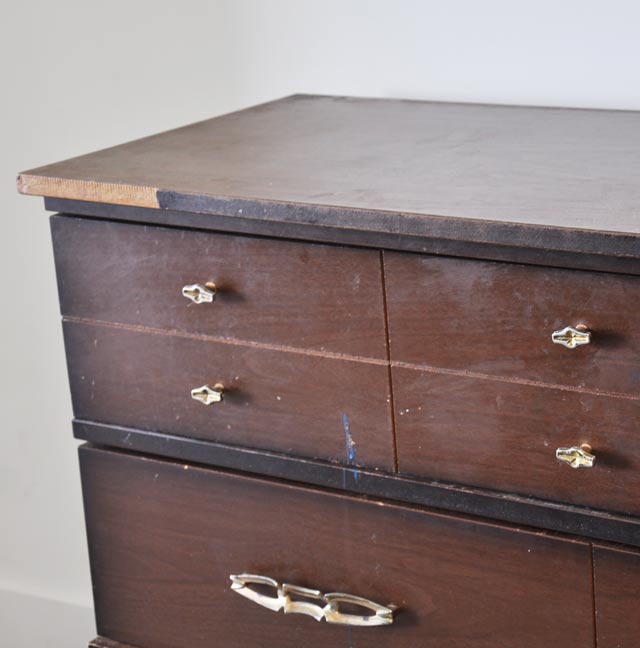 It all started with a rough sanding over the entire piece to smooth out bumps and remove dirt. This also helps the primer stick to the surface. Andrew filled all the holes with standard wood filler that you can buy at your local hardware store. This process takes a while as it involves filling holes, waiting for it to dry, sanding it down and filling it again if it's not completely smooth.
Once it was sanded and cleaned off with a rag, 3 coats of primer were applied, that's one more coat then I normally do, because this one needed it big time! It's important to start with one thin coat and let it dry completely. I usually wait a full day, or overnight.
Once the priming was done, Andrew worked his magic to align the drawers as best as possible and reattach the fronts and sides correctly. The reason this is done after priming, is because the wood may warp a bit once it's painted. Finally, 2-3 coats of high gloss Benjamin Moore Advance were applied. I used Tropicana Cabana on the drawer fronts and Snowfall White on the top and sides.
I had a long debate on whether I should save the hardware or not, I just felt they were so overpowering to the piece and I wanted to do something more modern, but after calculating the cost and time to find new hardware, I decided keeping the old ones was the smarter decision. I'm glad I kept them, because this proves that if you spray white paint on just about anything, it will automatically look awesome!
I cleaned the hardware, sanded it a bit and applied high gloss spray paint that's meant for use on plastics, metal and wood.
Here's the final result of another painted vintage dresser: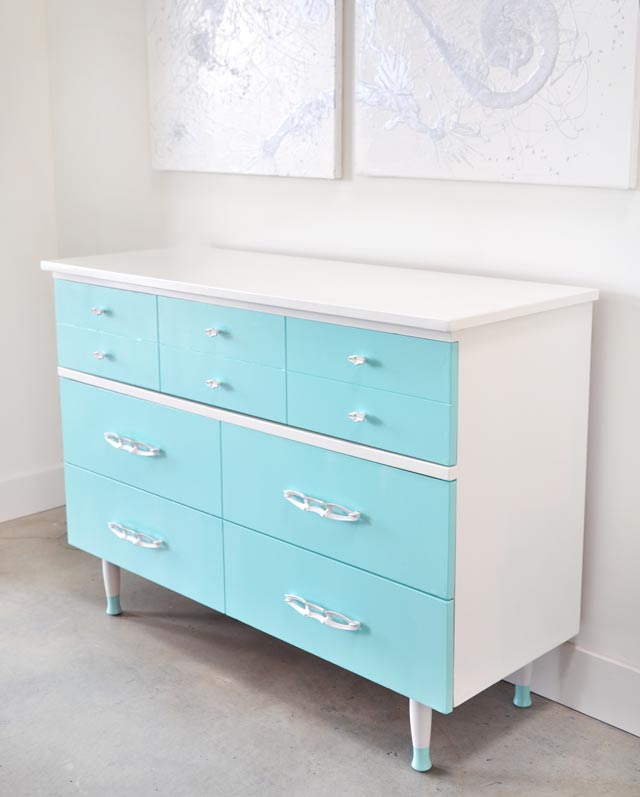 Lastly, I dipped the tips of the legs in the blue paint, to add a bit of playfulness to the piece.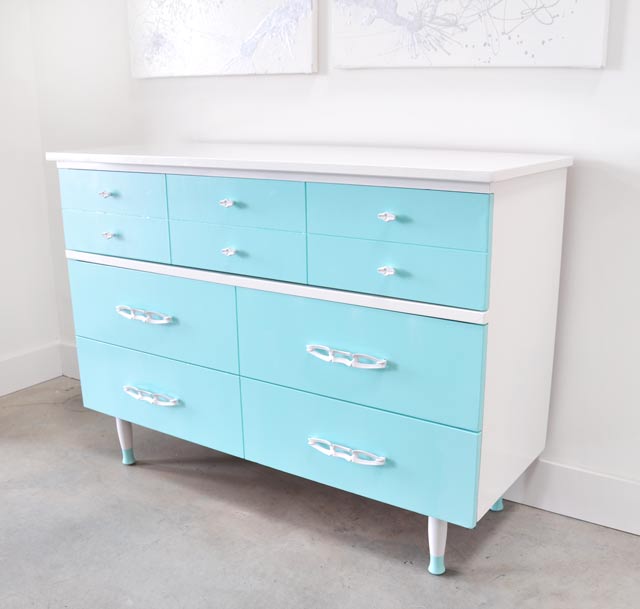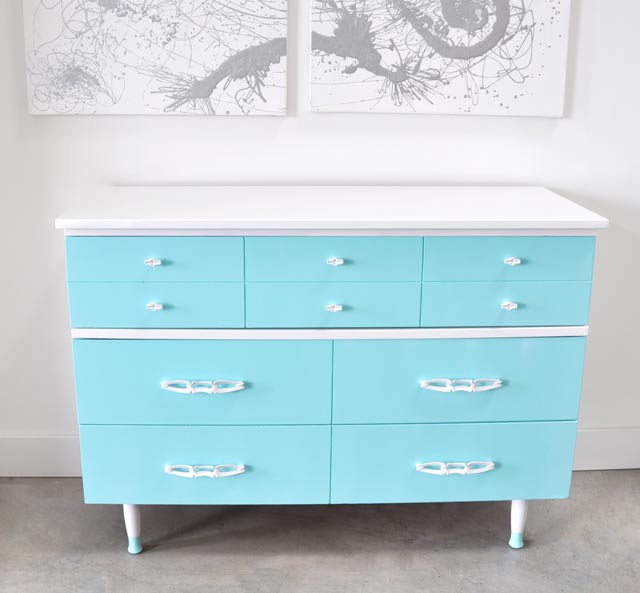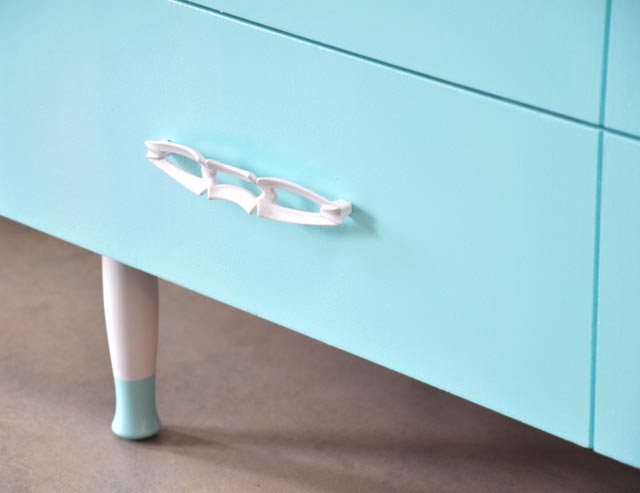 Update!
This dresser was sold to a wonderful mother and is now used as a changing table. She sent me a photo of it in their nursery and I just love it combine with the art wall and that rug.