If you've been following me for a while you'll know that I have a strong dislike for a set of replica Eames dining chairs that we had at our dining room table. They make horrible noises when moved around, you constantly have to tighten the screws and the plastic seat cracked within a year of purchase. So I have been researching chair options for a long time, realising I needed quality "adult" chairs that will last a lifetime.
I already own a few pieces from Article, so I knew I loved the quality. If you don't already know, Article is an original modern furniture brand re-engineering the shopping experience to deliver remarkable value. They deliver directly to you. You get high-quality furniture at much lower and fairer prices than a typical retailer because there's no showrooms or salespeople. They keep the shopping experience simple. They have an amazing return policy too, so there's no stress if it doesn't work for you, just send it back within 30 days with the original box. Read more about their return policies over here.
After taking another look at Article's website I fell in love with the Ecole dining chairs in white oak and put them on my wishlist for several months, I even blogged about them and made a mood board of the items I wanted in our dining area. You can read that post over here.
If you follow me on Instagram you'll remember this is what our dining room used to look like: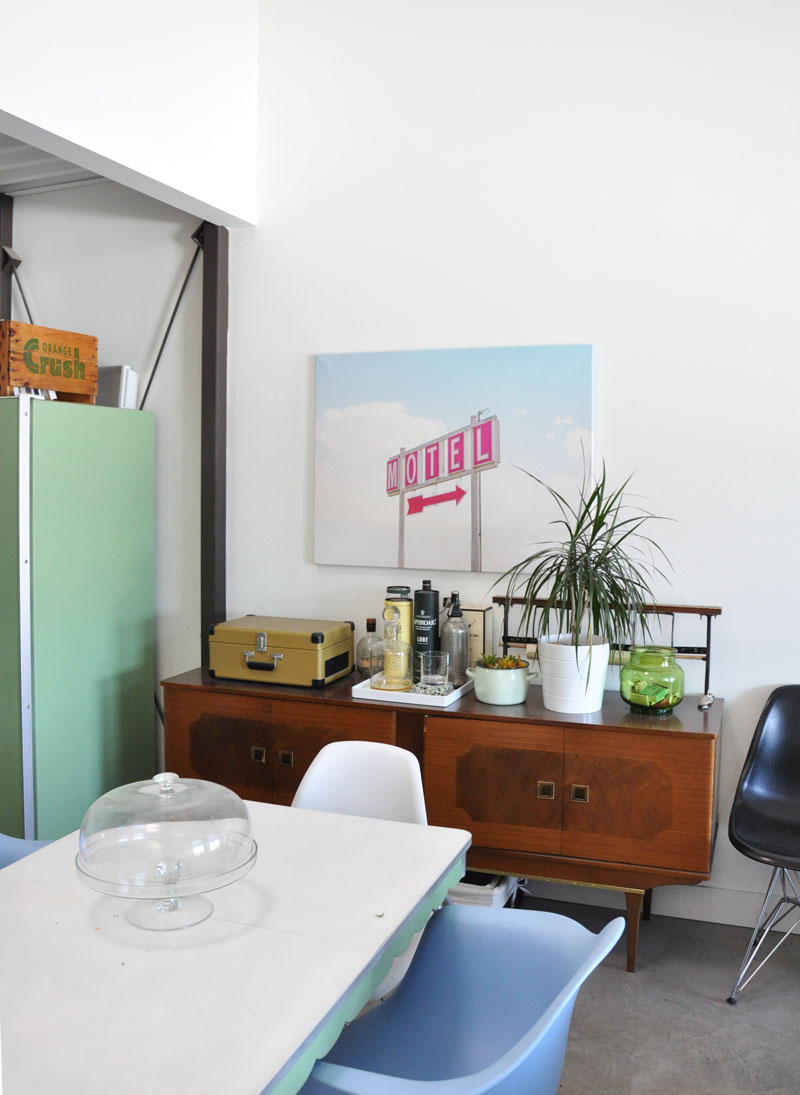 We eventually changed our vintage sideboard to the Seno sideboard from Article several months ago, you can read my blog post about the sideboard over here. I wanted lighter colours and leaner lines. This changed the look of our dining area completely so I knew I had to change our table and chairs.
I already knew the table was going to be vintage, I have been wanting a white oval Saarinen style table for years but never had luck finding one until finally, one showed up on craigslist at the right price. The table needs some TLC, but at first glance it's awesome! When that table showed up I knew it was time to replace those broken replica Eames chairs. So here's what it looks like now: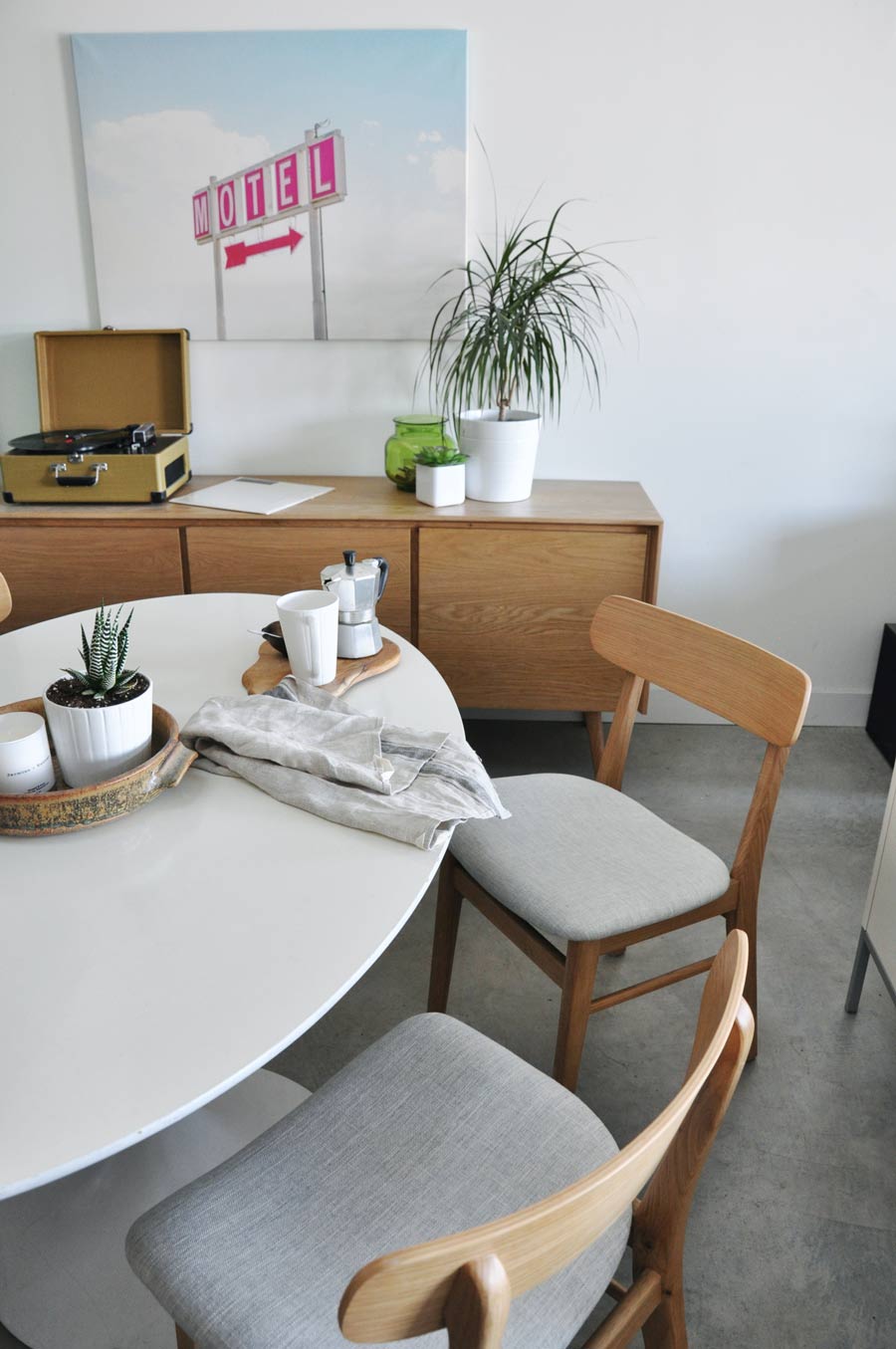 We got the oak Ecole chairs and now our dining area finally feels comfortable and complete. I'm finally proud to have guests over and I no longer feel nervous that they'll sit in the chair and it might break.
These chairs are so comfy and sturdy. I am so thrilled with them I might even host a holiday party this year! Although the thought of organizing a party kind of stresses me out and there's already only a few weeks left until Christmas! Yikes!
If you're looking for some holiday hosting tips, head over to Article's blog for 9 tips, I'm personally a fan of their suggestion to "keep things simple"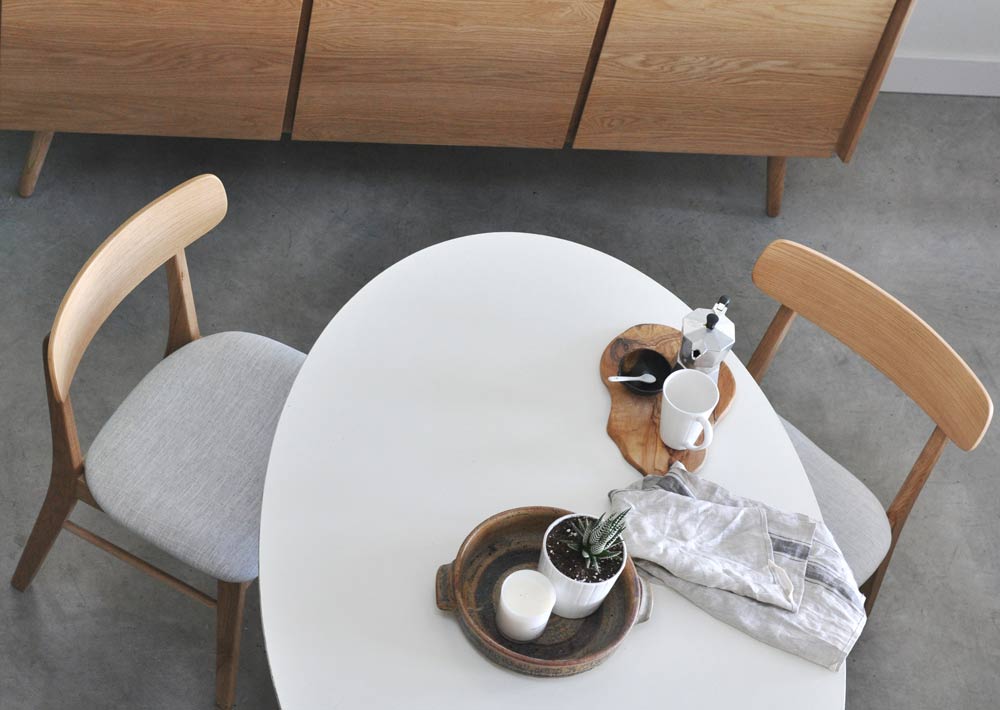 The oak from the chairs matches the oak on the Seno sideboard so nicely and our vintage white table breaks up all the wood and really calms the space. I'm loving this minimalist look, it makes our open plan loft apartment feel so much bigger, brighter and less cluttered.
The chairs are so comfy that Andrew and I have found ourselves eating more meals at the table together, so much better than grabbing a plate and eating on the sofa. We've even found a moment to sit and enjoy a morning tea or coffee before work. Funny how a new table and chair setup can really change the function of your entire home.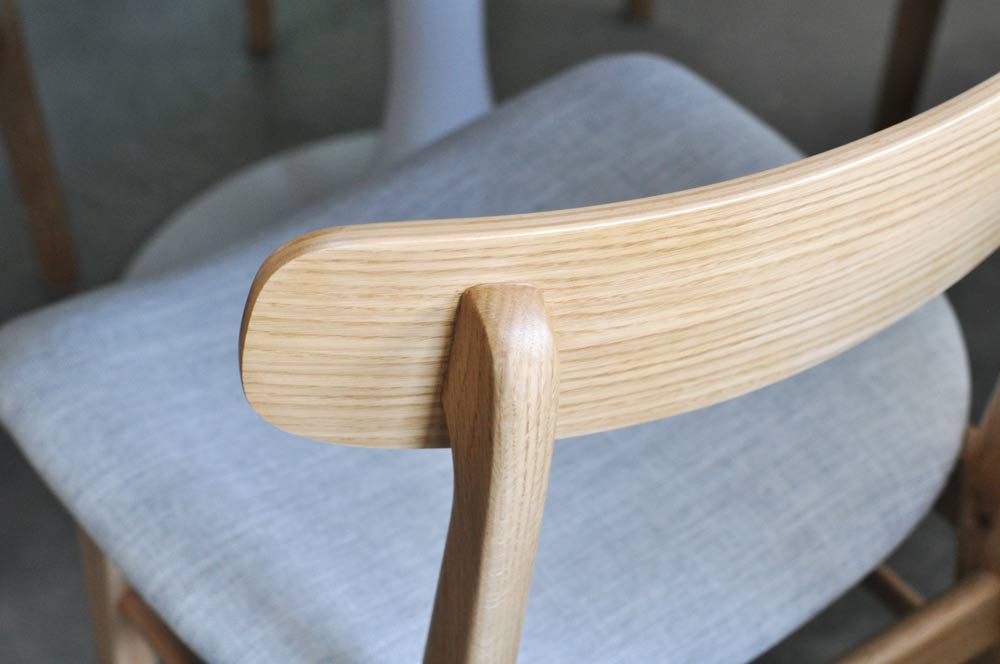 The Ecole dining chairs are solid wood with light grey fabric seats. The fabric has a bit of texture, but they're smooth and soft to the touch. The colours are true to the photos on Articles website. The backrest is at the perfect angle for sitting at the table enjoying a long meal with family. I've tested it by spending a full day sitting at the table working at my computer.
There's absolutely no flex in the joints of the chair so I know they are built to last. I feel like I'll have these chairs for a lifetime so I started thinking about the future and realized the fabric seat looks like it can be removed, just in case you ever want to reupholster them in 20 years!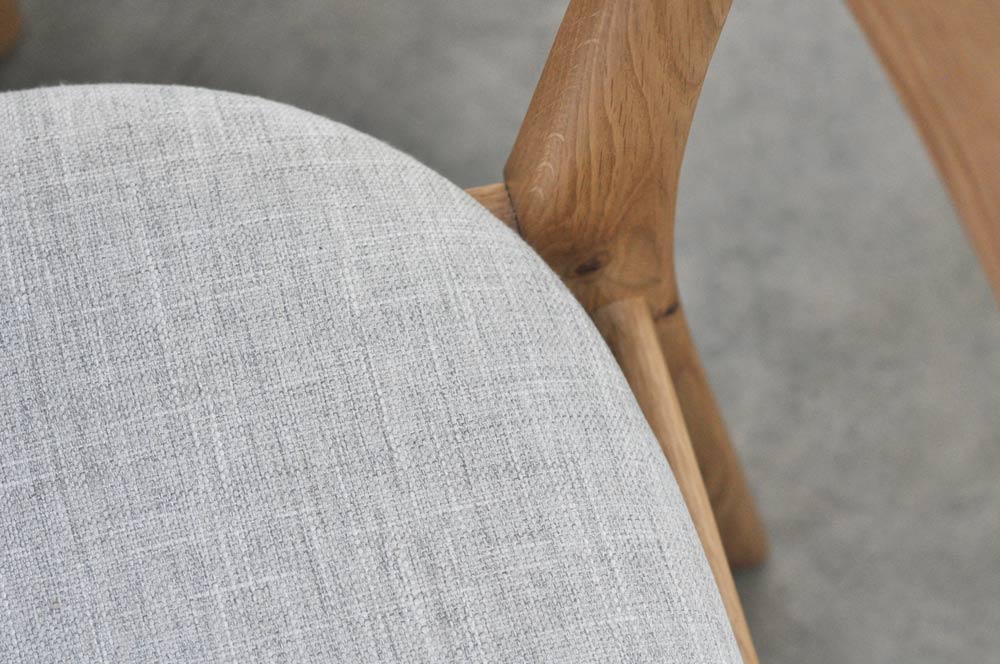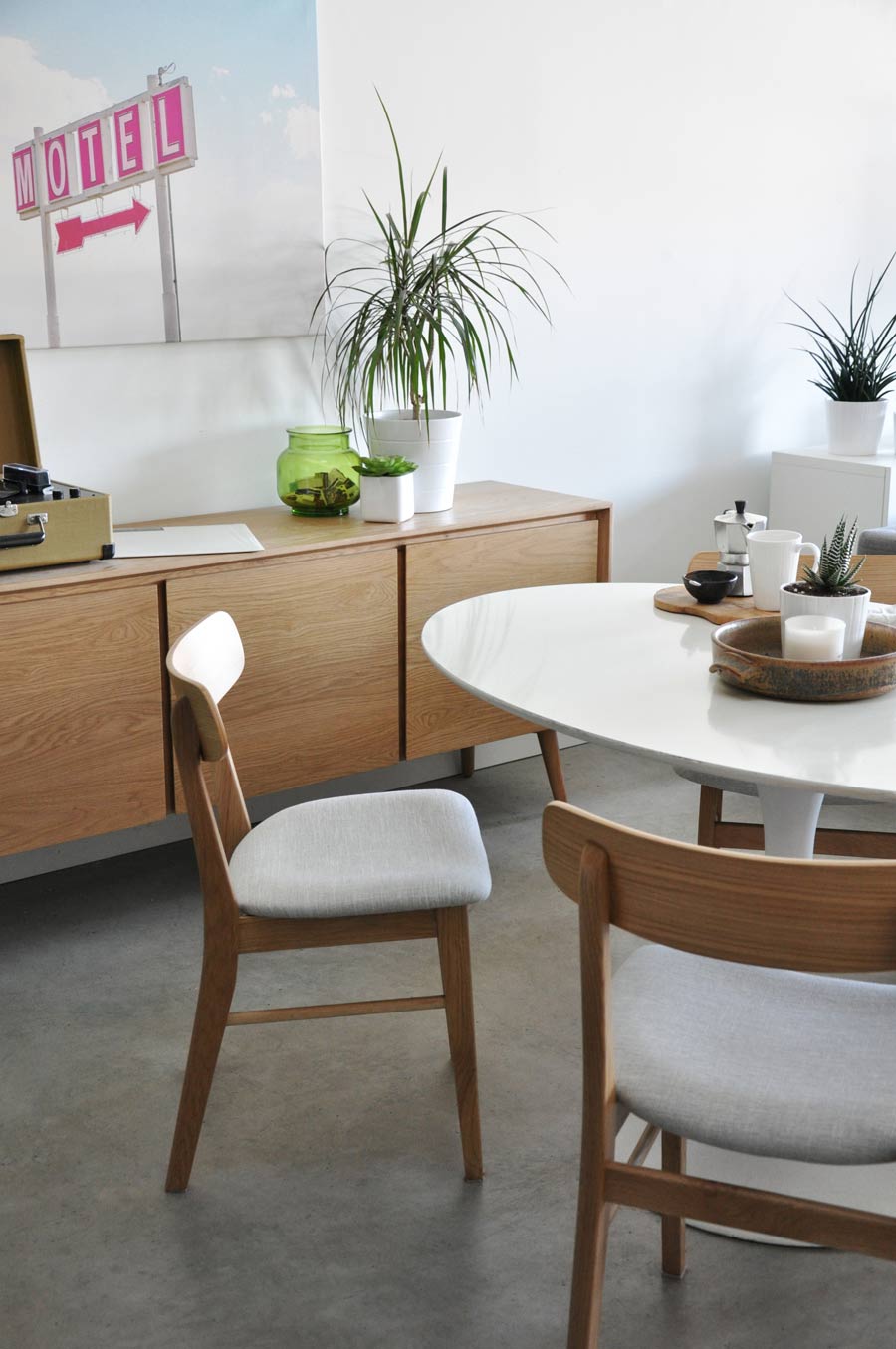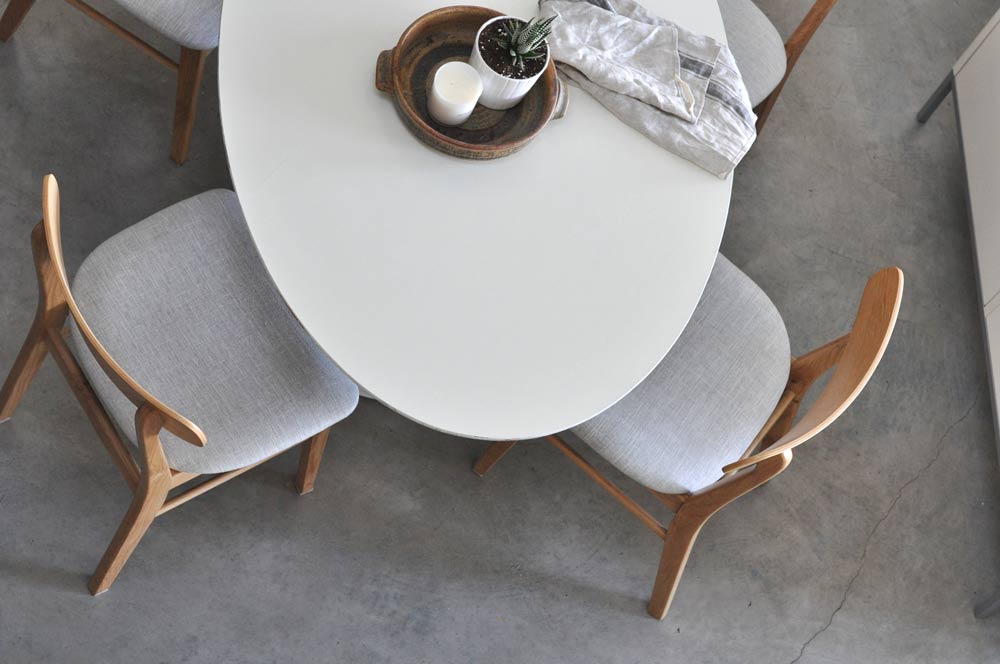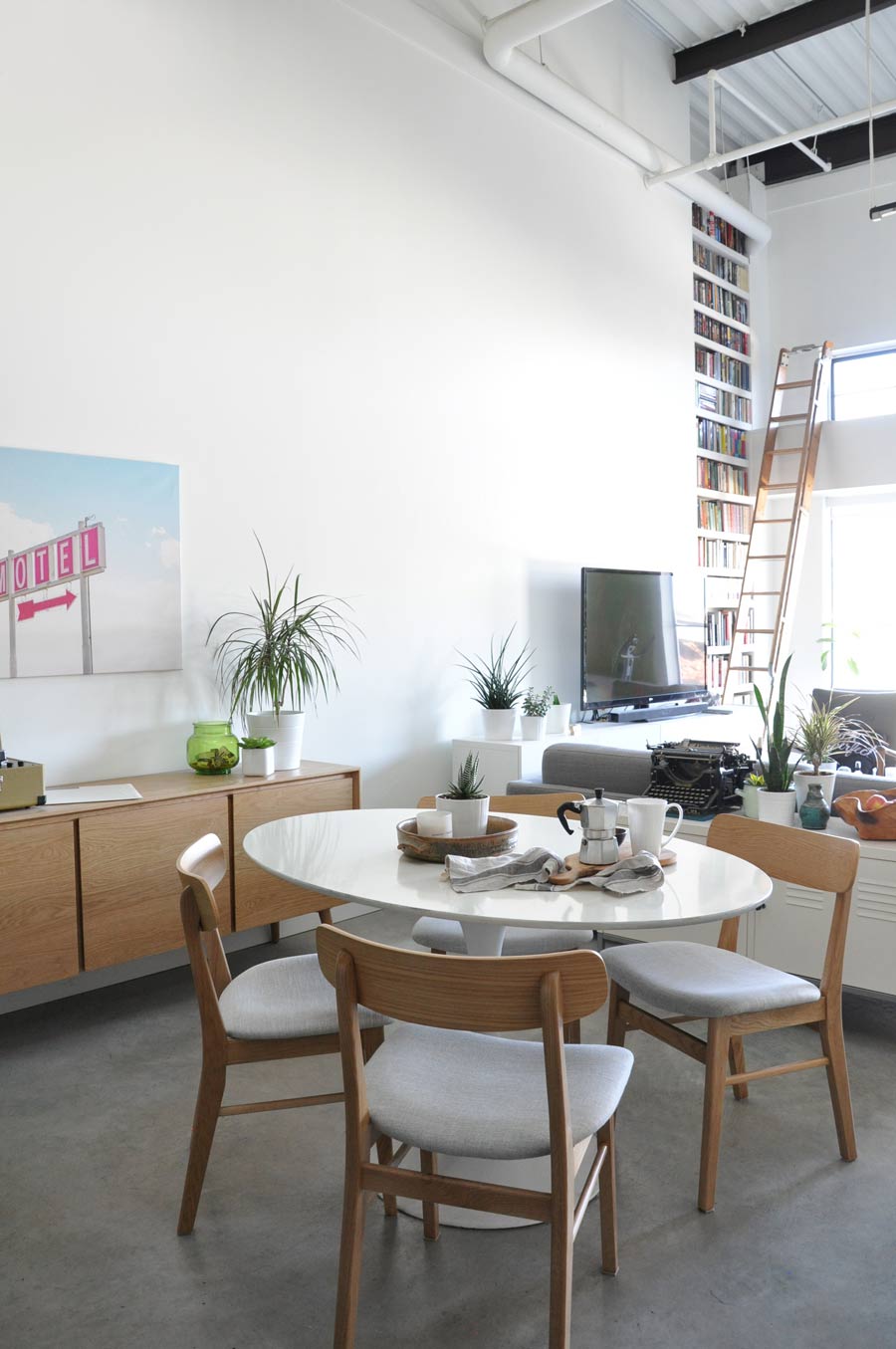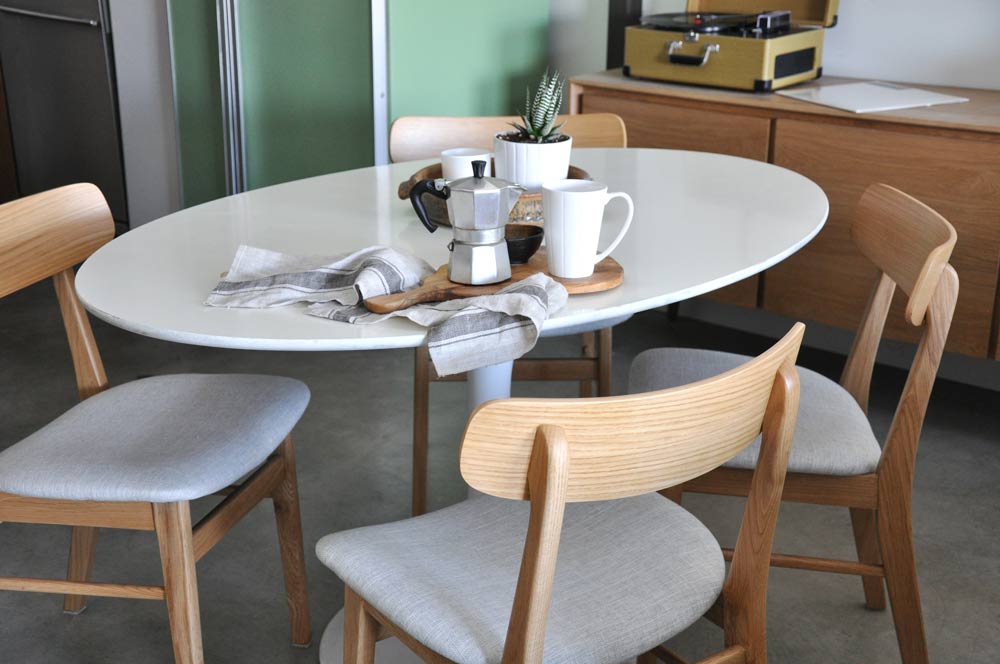 Disclosure: Article provided Ecole chairs in exchange for an honest review of the product. All words and opinions are my own.