Goodbye gallery wall, the new trend is large art and I love it. When we first moved into our loft, we put up a gallery wall because it worked with the art we already had, it was a mash-up of my art and Andrew's art on one wall. After 5 years I got pretty sick of it and we weren't really in love with any of the pieces. I decided that large art is better because it looks less cluttered, creates a bold focal point in the room and overall it makes me happier and that's the most important reason for this change.
Here's what the gallery wall looked like.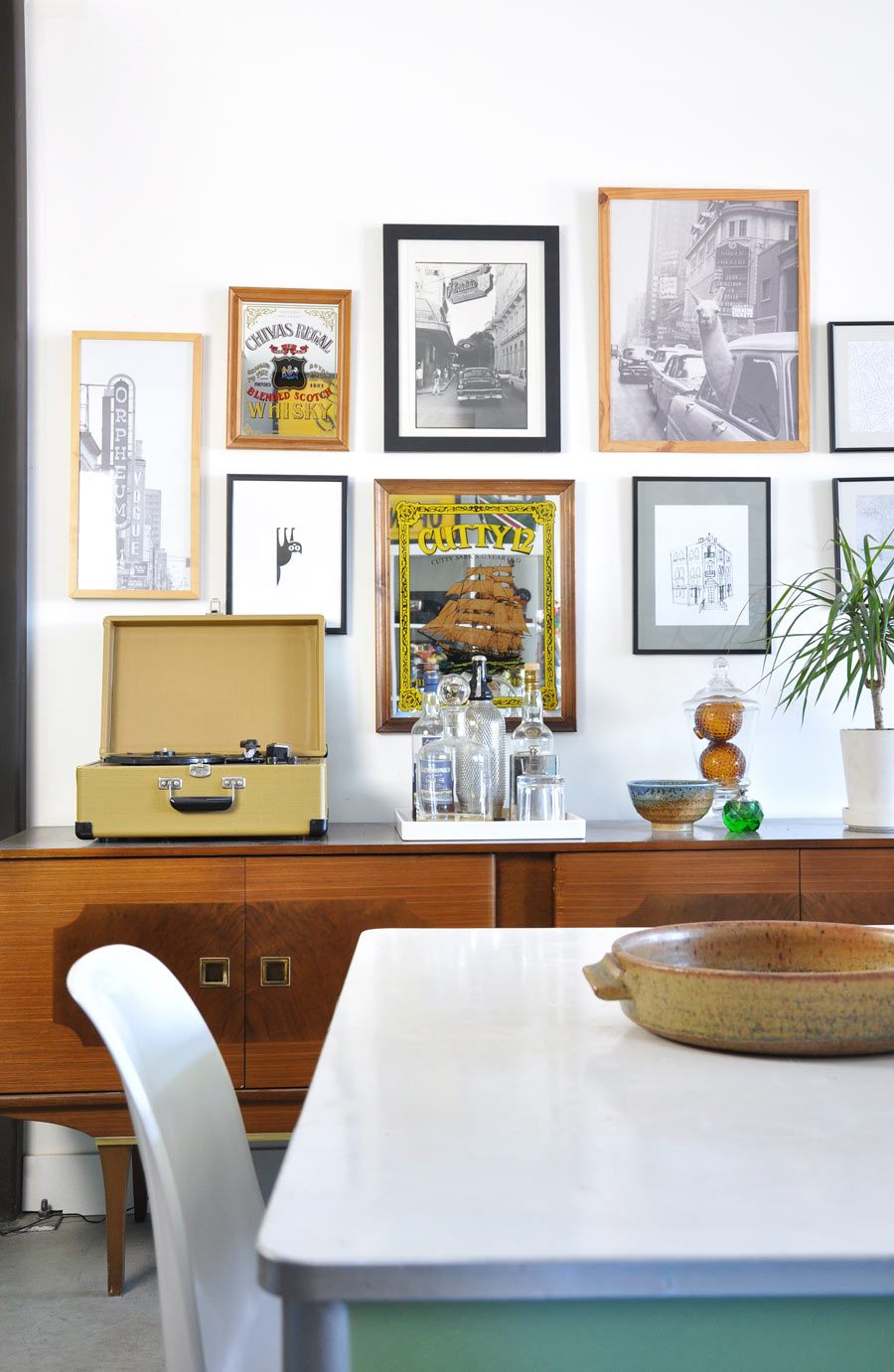 I took down all the art you see in the photo above and left the wall white for a long time, I was going to paint a very large abstract, but I kept procrastinating plus I could never figure out exactly what I wanted until now.
I found a Canadian company that prints large art photos on canvas. BestCanvas.ca is a really affordable online shop for awesome large scale art printing (and small canvases too). I just uploaded my photos and they sent me the printed canvases a couple of weeks after.
The only hard part of this project was finding high-resolution photos that I loved. Narrowing down my selection was so hard! I didn't purchase stock photography, because most stock photos are pretty cheesy. I also didn't feel like printing my own photos, I've done that in the past and I get sick of looking at my own shots, so I went to Unsplash.com, it's like a stock photo website, but the shots are more real and absolutely stunning, a lot of great nature shots. Best of all, the photos are 100% rights-free to use however you want, including editing them as much as you want. Thank you to all the generous photographers on there for sharing their work!
I downloaded this motel sign by Matthew Smith and did some photoshop editing to make it the pop art style I wanted. The original is on the left, it's awesome, but I wanted it bolder and brighter.

I'm very happy with the minimalist yet bold style it adds to our living room.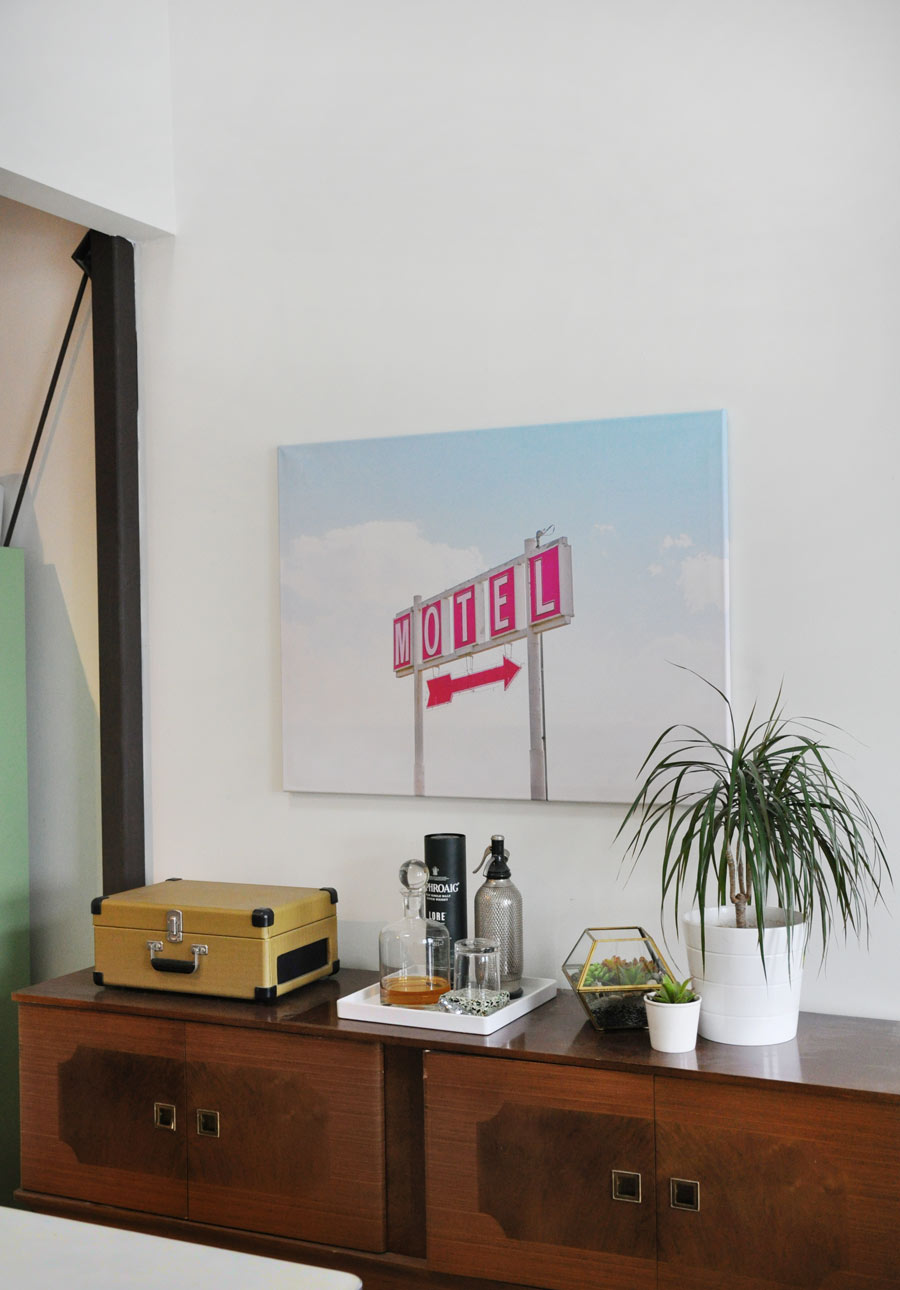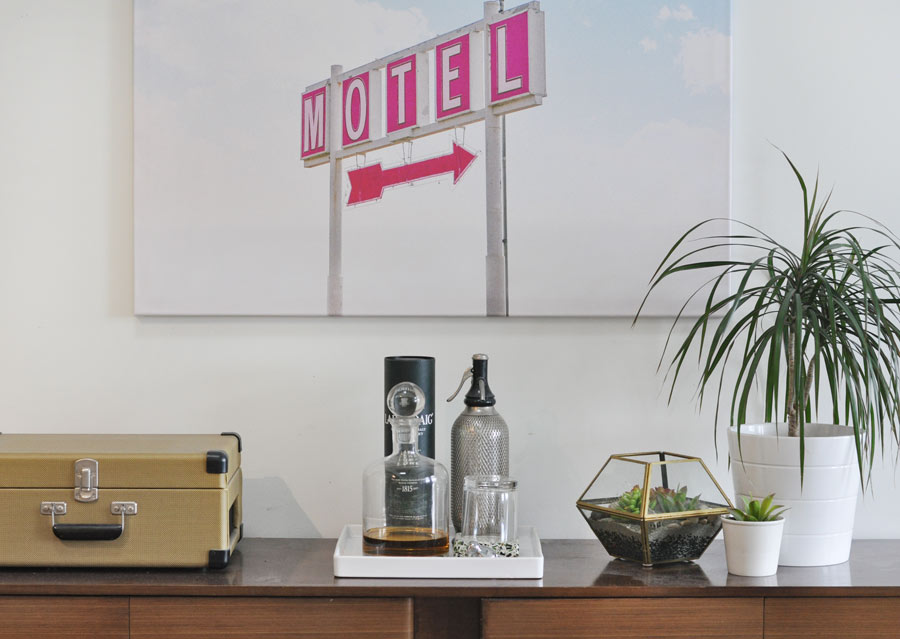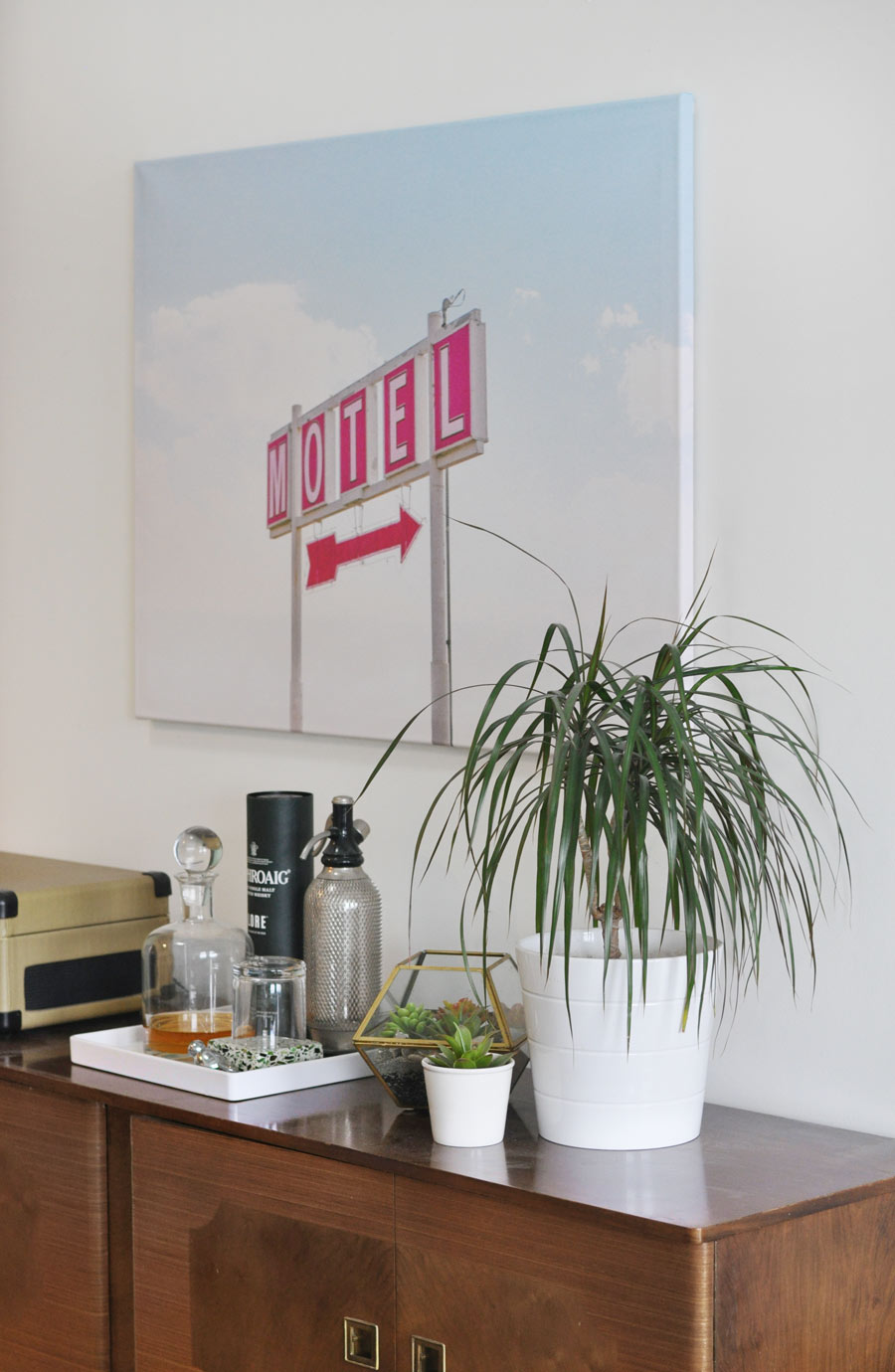 The other canvas print is a drone photo of a forest by Geran de Klerk.
The inspiration behind this came from a long time love of green walls, but it's just not in our budget to create one, so a photo was the next best thing!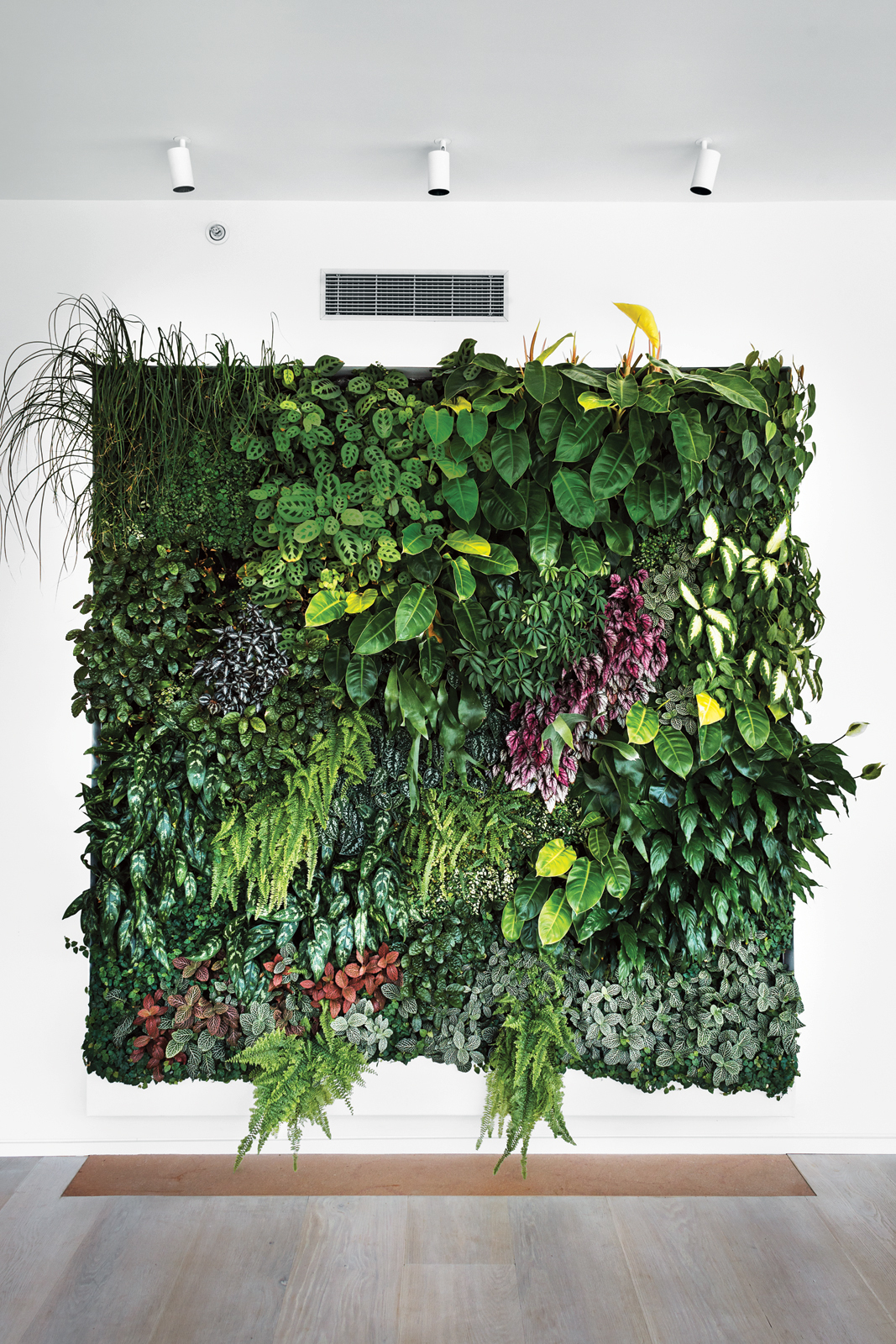 (photo source)
This canvas print totally gives the feeling of a green wall, adding a touch of nature into our living space.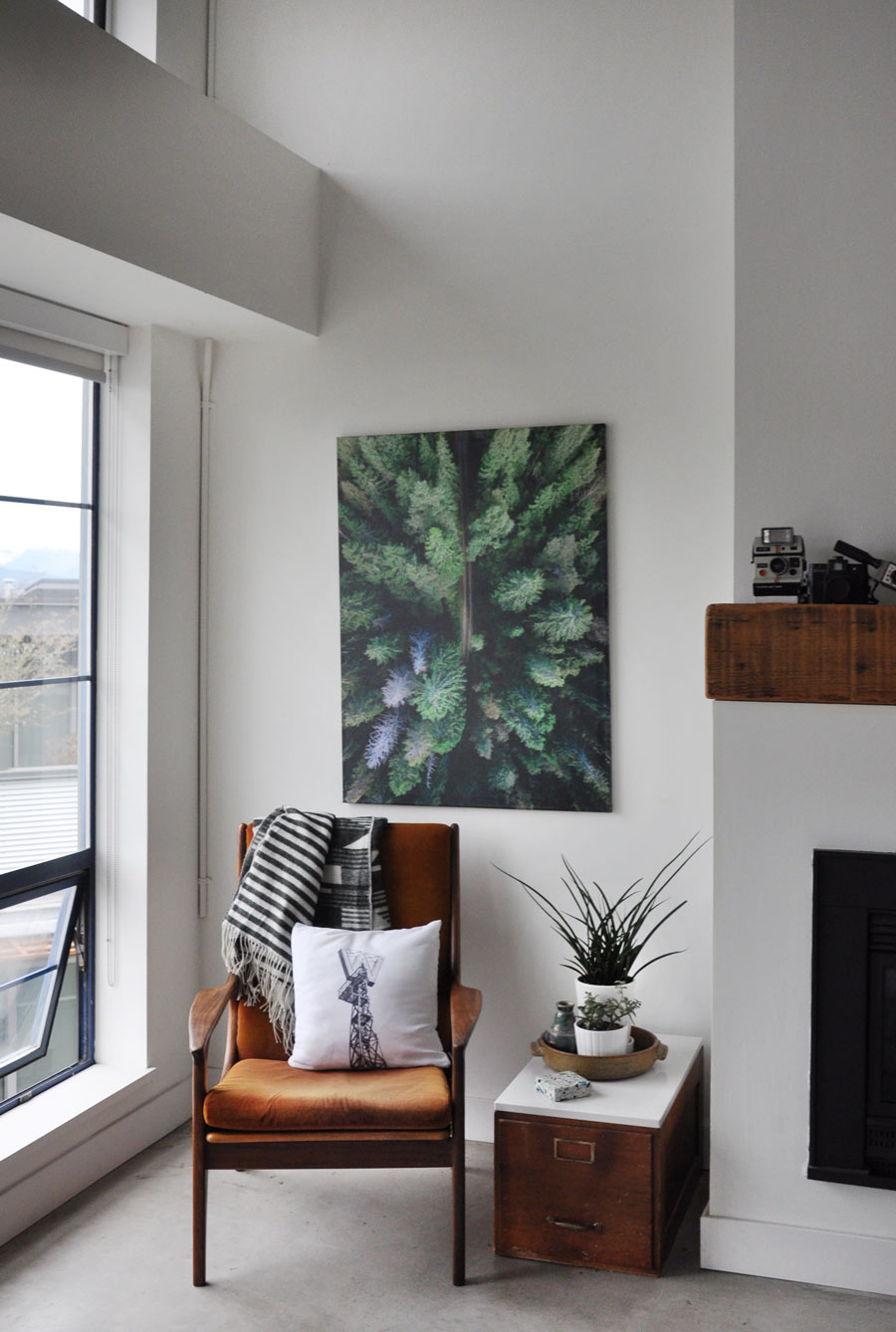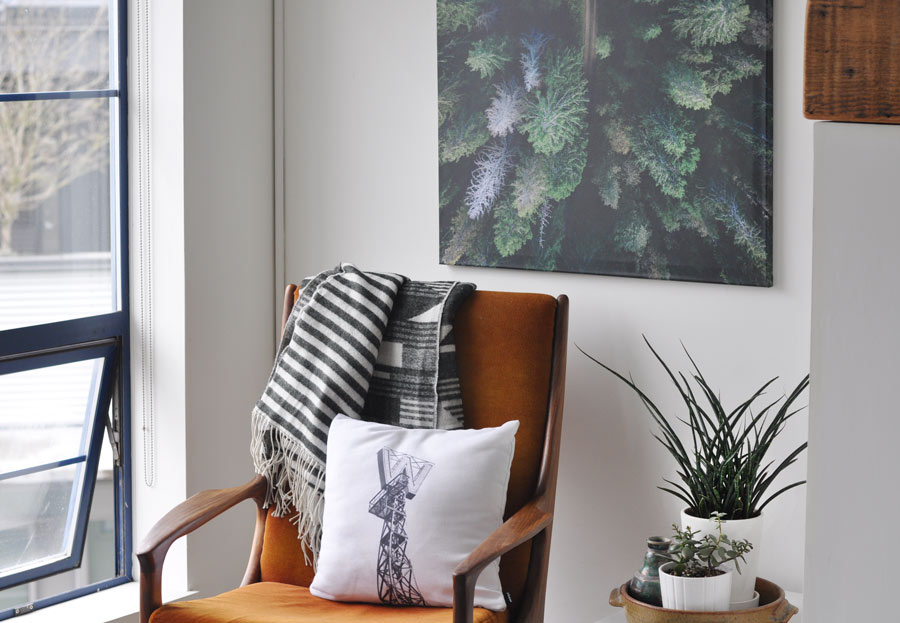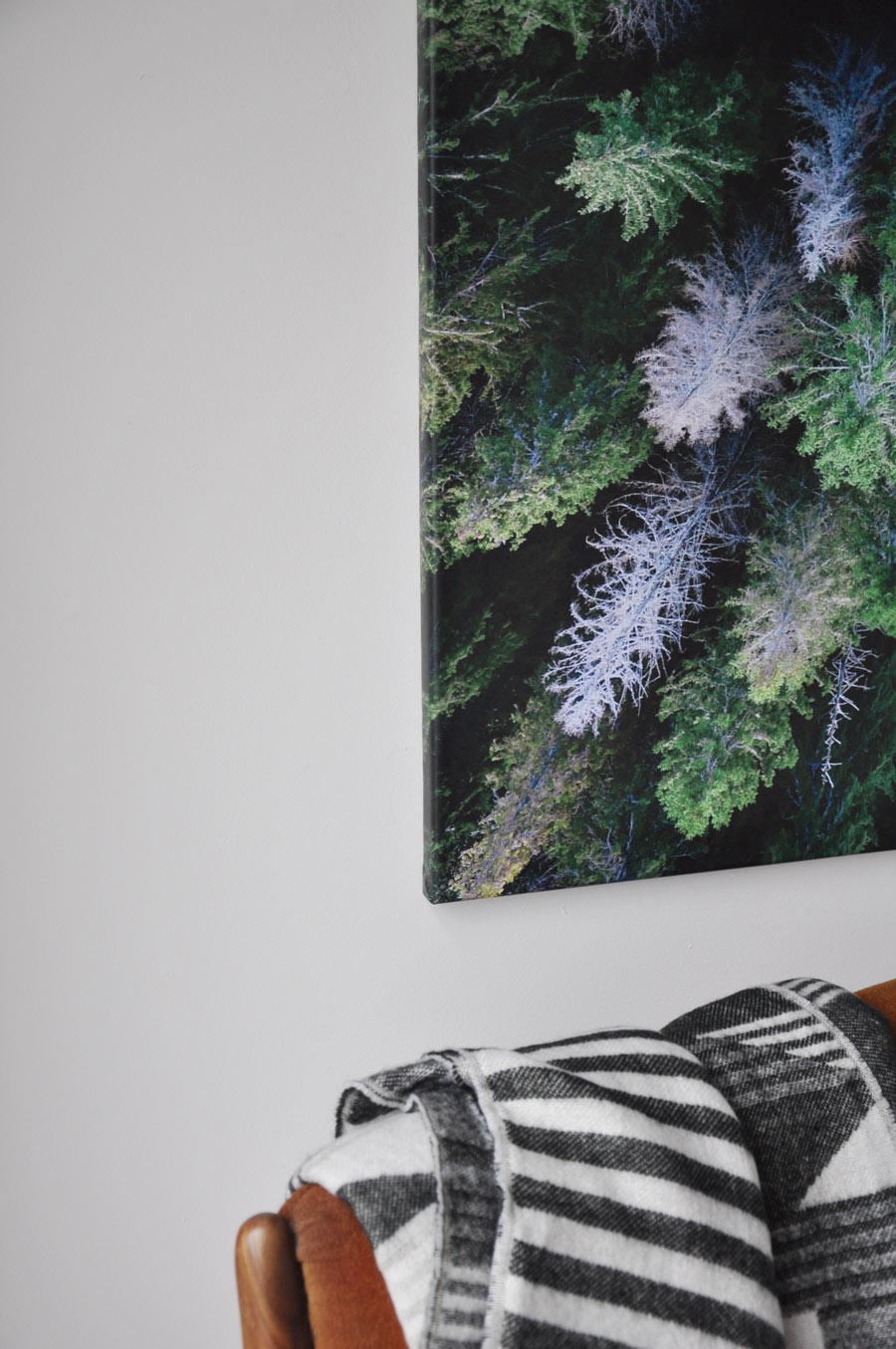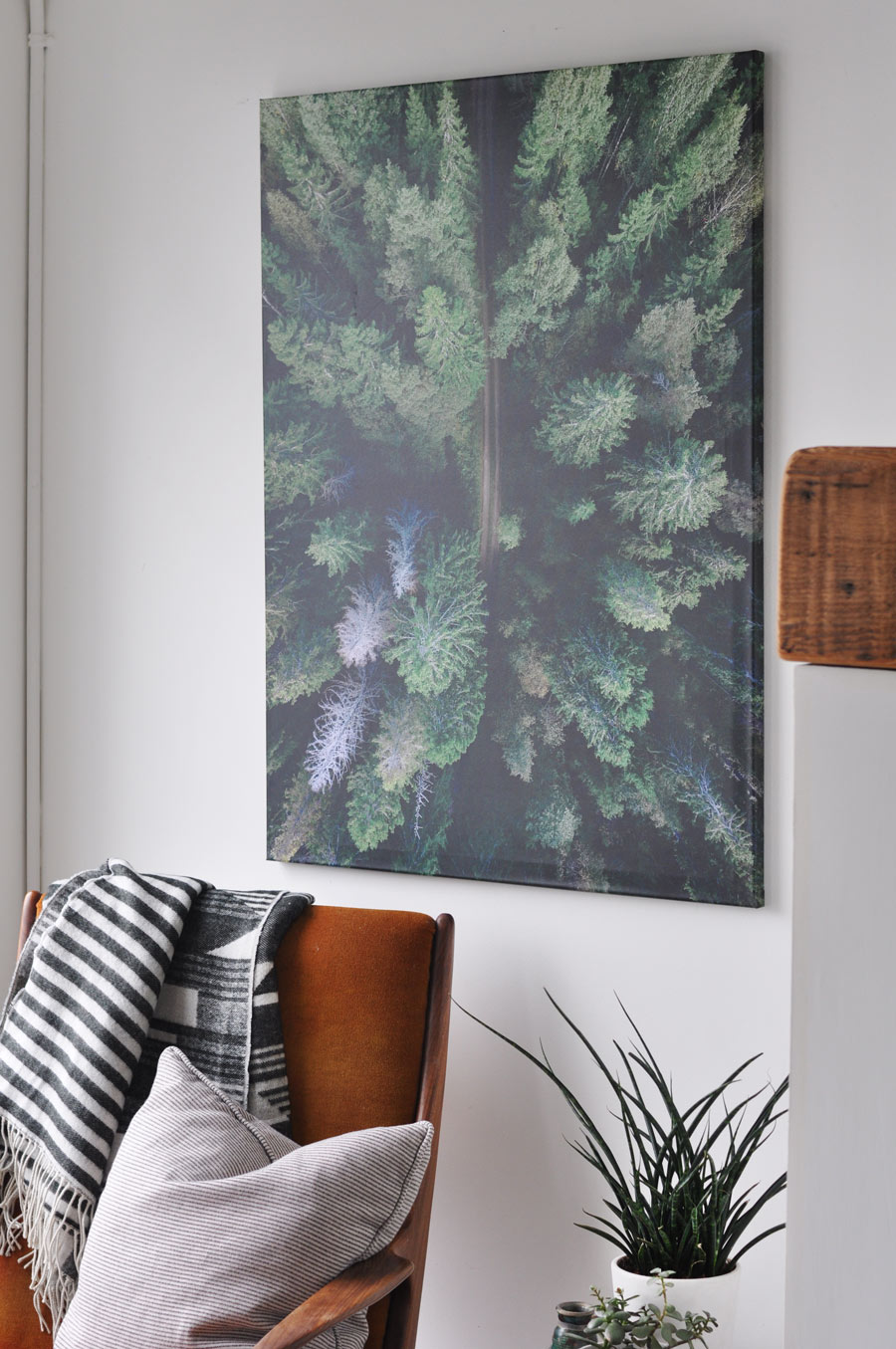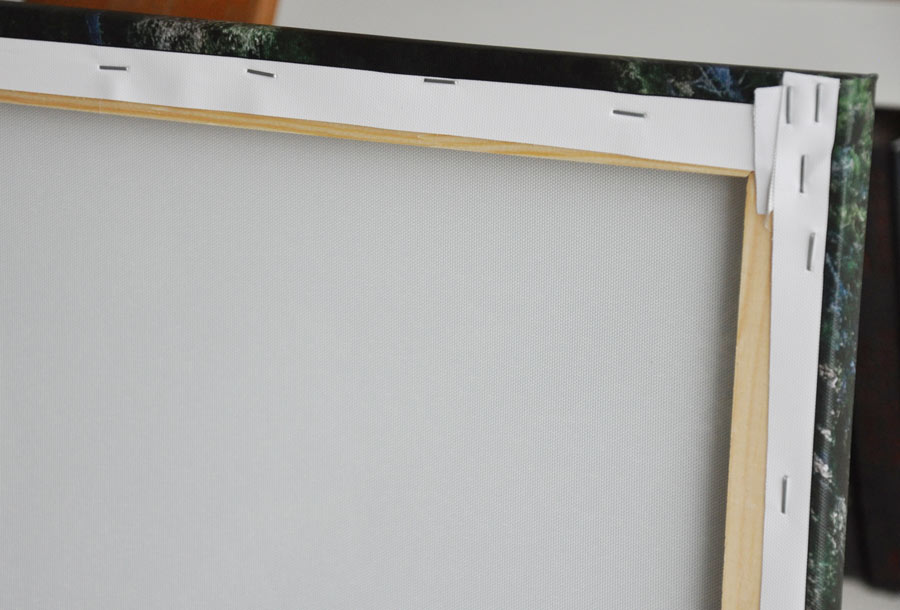 Best Canvas Prints Canada has a lot of sizes and frame options, I went with 40″ x 30″ folded edges. Since I'm a graphic designer I get pretty hung up on image quality and colours, their inks are solvent-free, won't fade, smudge or crack, pretty impressive since their prices are also the lowest you'll find online.
CONTEST CLOSED! THANKS TO EVERYONE THAT ENTERED! WINNER POSTED BELOW.
Giveaway! Enter to win $50 USD + free shipping for BestCanvas.ca
Enter through the widget below, you must fill out all the fields to be entered.
Open to Canadian and US residents only. Giveaway ends April 6th 2017. Winner will be notified via email.
a Rafflecopter giveaway

Below I've gathered some inspiration of large scale artwork to help inspire you if you're liking the idea of a big canvas print. Let me know in the comments what you'd print! A family photo? Nature scene? I'm curious to know!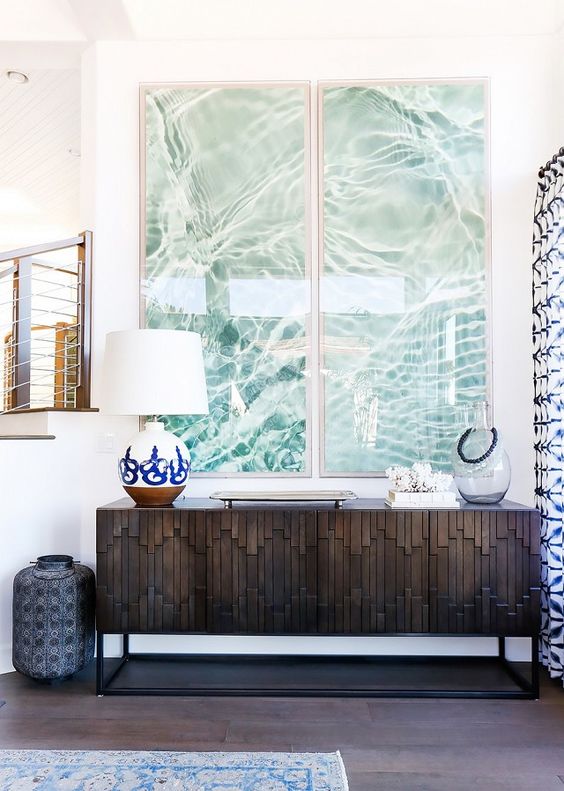 (photo source)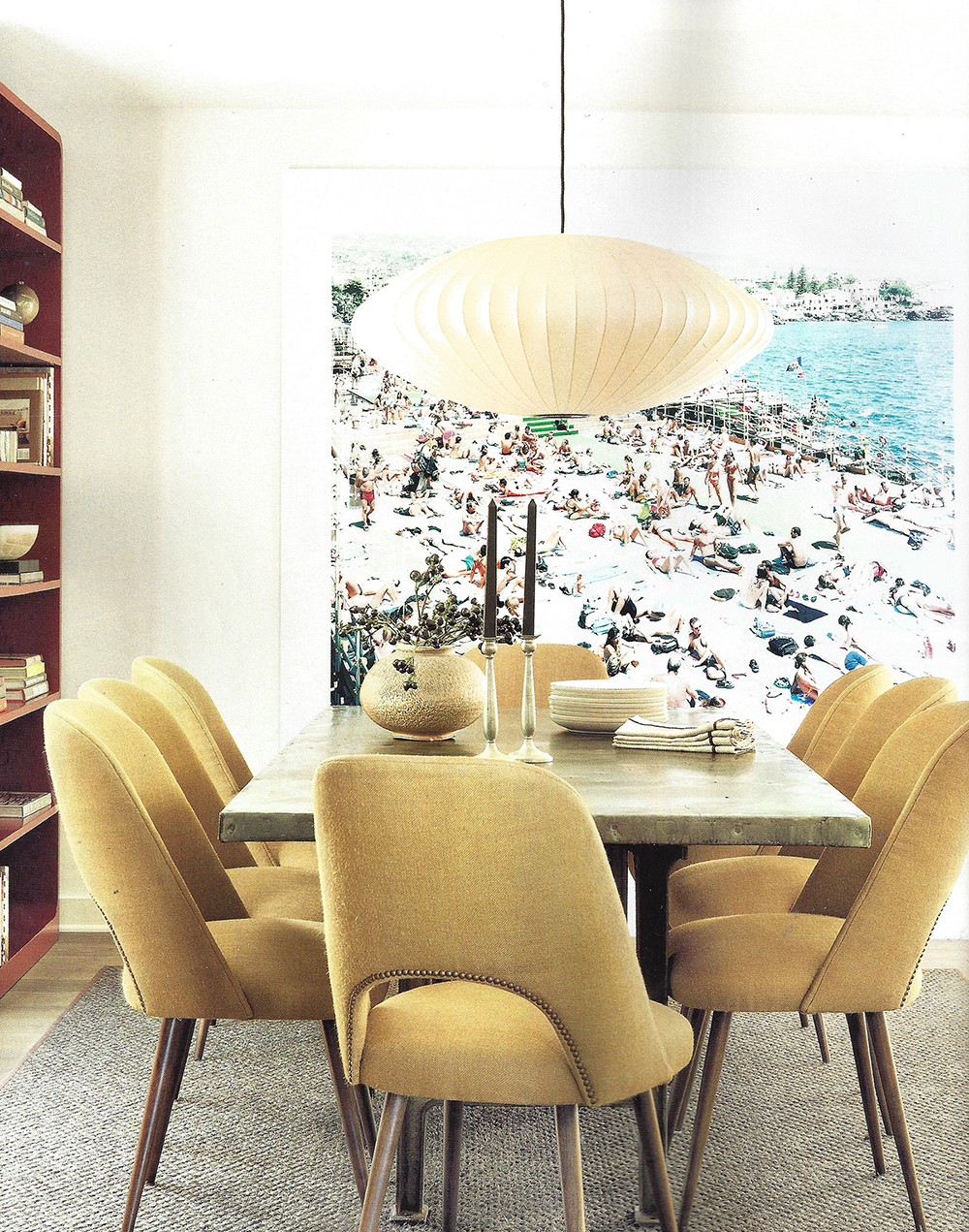 (photo source)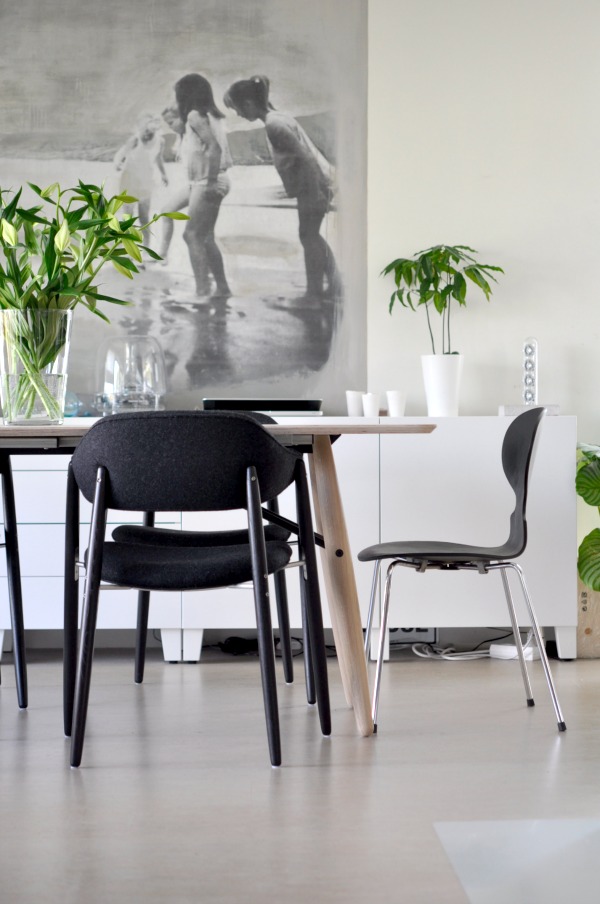 (photo source)
Disclosure: BestCanvas.ca provided 2 free canvas prints to review for this post. All opinions are my own.