I've become obsessed with dates. They are delicious on their own as a snack, but they're also a great way to replace sugar in many recipes and baked goods or rethink the way you make traditional baked goods. This 2 layer no-bake date peanut butter bar recipe is refined sugar free but you'd never know because they're so satisfying, chewy and delicious! Who knew a date peanut butter combo would be so good!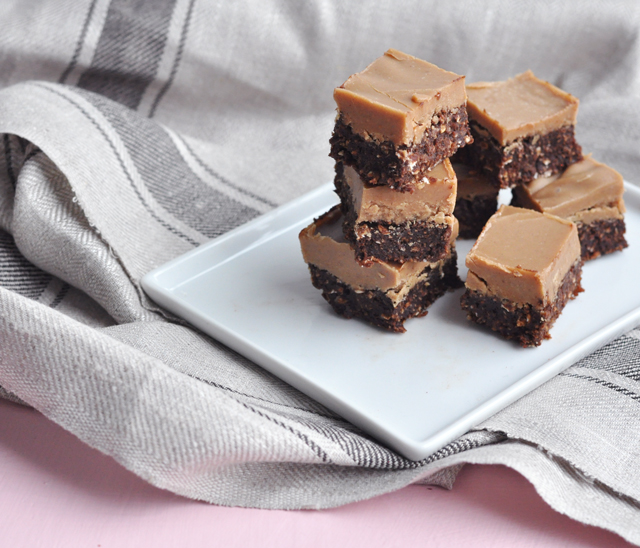 The bottom layer is mostly dates blended in a food processor with unsweetened shredded coconut and cocoa powder. The top layer is natural sugar free peanut butter mixed in a bowl with melted coconut oil and maple syrup. Both of these layers become firm when they're placed in the freezer. Once it firms up, you can cut into bars and store in the fridge or freezer, but trust me, you won't have to store them very long because you won't be able to stop eating them! I love cutting them into small squares so they last a little longer. They're great for morning snacks or afternoon energy boosts during the week. You will need a food processor for this recipe, a blender just doesn't combine the ingredients well and mixing by hand won't work either because the dates need to be smooth.
No-bake Date Peanut Butter Bars
Ingredients
Bottom layer:
1 cup (approx.) uncooked oatmeal
1 cup unsweetened shredded coconut
800 grams (almost 4 cups) Dates
1 tablespoon Vanilla Extract
3 tablespoons Cocoa Powder
Top Layer:
1 cup Natural Peanut Butter
1 cup Coconut Oil (melted and slightly warm)
1 tsp Cocoa Powder
A few tablespoons of quality natural Maple Syrup (optional)
Directions
Bring a medium pot full of water to a boil. Turn off the burner and soak your dates in the water for about 10 minutes so they become soft. Strain the dates and place them into your food processor. Tip! You can save the "date water" and use it to cook your breakfast oats instead of regular water or sweeten beverages, I store it in the fridge for up to a week.
Blend your softened dates in the food processor for a few minutes until smooth. This may require a spatula to scrape down the sides. I also added a few tablespoons of the "date water" to smooth it out a bit more. It takes a little bit of time to get the smooth consistency so be patient. Slowly add in the oatmeal, coconut, vanilla extract and cocoa powder. You may need to add more or less oats depending on the consistency. The mixture should hold together but shouldn't be runny, similar to the consistency of cookie dough.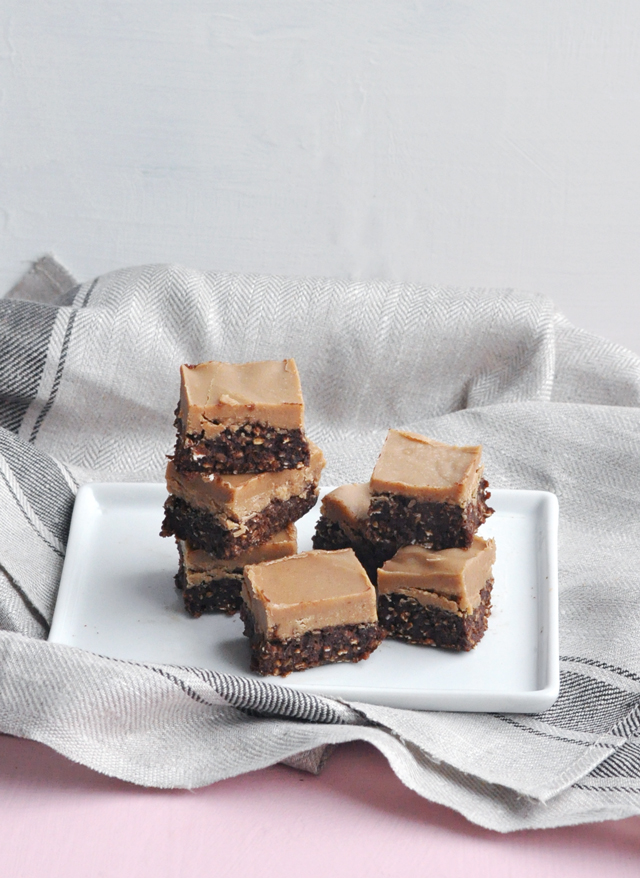 Once your mixture is nicely combine, scoop it into a 7″x11″ bake dish or something approximately that size, and use a spatula to spread it out evenly on the bottom. I like using glass Pyrex. Place this layer in your freezer for about 20 minutes.
Meanwhile, in a bowl combine peanut butter, warmed melted coconut (I just microwaved it for half a minute) and 1 tsp cocoa powder and maple syrup. I didn't provide an exact measurement for the maple syrup because it will depend on what you like. Add a little, stir it in well, taste it and add more as desired. Maple Syrup is optional because it's there for flavour and added sweetness, it's just as delicious without it because the date layer is naturally sweet. Using a spoon mix very well until it's smooth. The warm coconut oil will melt the peanut butter and combine the ingredients into a runny sauce.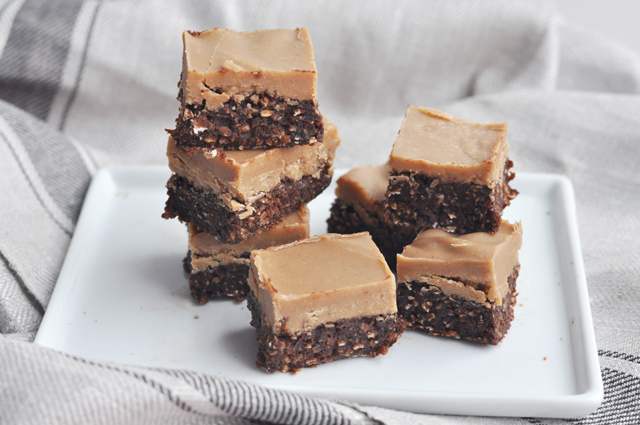 Remove your dish from the freezer and pour your peanut butter mixture over the chilled base. Return it to the freezer for about an hour until it firms up completely. Cut it into whatever size squares you prefer, I highly recommend small squares so they last longer, plus they are fairly dense so smaller bites are ideal.
Store your delicious date peanut butter bars in your fridge for up to 1 week (if they last that long).
You could also store them in the freezer.
Enjoy!