A while back I refinished a junky white box into a modern mid century style night stand. I ended up keeping it for myself. Ever since then, Andrew has been looking for a vintage night stand to match mine. You could say he had night stand envy.
Here's the piece we were matching it with, you can read more about this before and after over here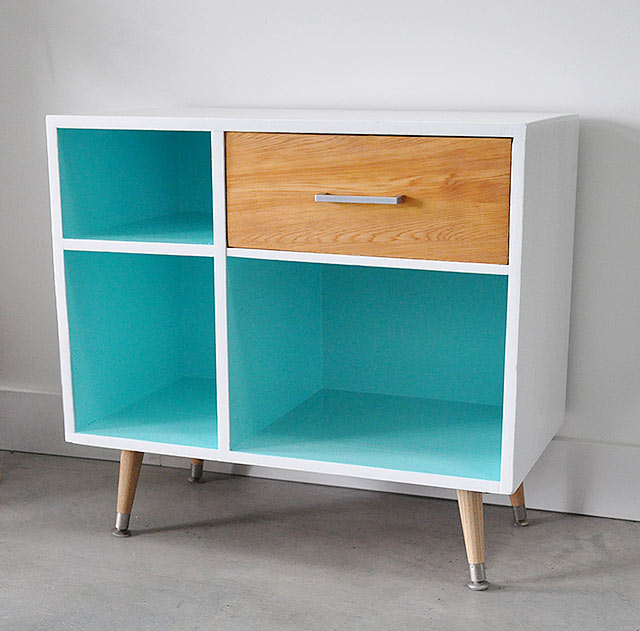 So we were on the lookout for something that had similar bones. We recently found this little guy: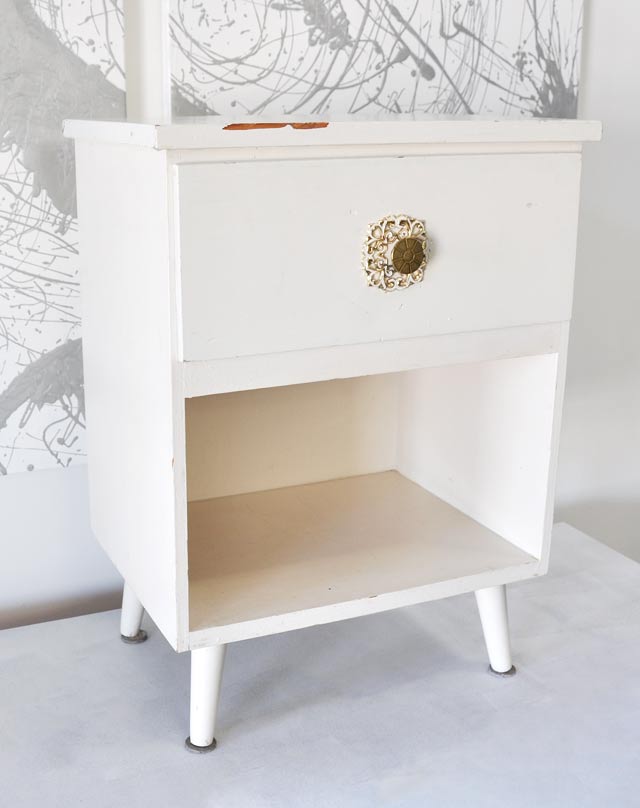 This piece was frumpy, especially with that hardware, super short legs and cream paint. We wanted to give it a modern facelift. Right away we ripped off the drawer front, because we knew it was plywood and we wanted a nice wood front to match the other project I did. We went to the hardware store and got them to cut a piece of 1/4 inch maple veneer to size. If you ask your local hardware store very nicely, they won't charge you for cuts. Well at least that's what the awesome guys at Windsor Plywood did for us! I think it was because I smiled ever so nicely at the guy. It only cost about $13 for the drawer front and we have so much leftover wood for another project, but I've already decided I'm going to keep the thin sheet of veneer to use as a photo backdrop for now.
We brought it home and glued and clamped it to the drawer face. We just used regular wood glue and heavy duty clamps. It sat clamped for about a day. Once it was dry we applied several coats of danish oil and drilled holes for a modern drawer pull.

You'll also notice we switched out the legs to give it more height so it would work better as a night stand and so it matched the other piece I did. You can find legs like this at Home Depot, but we got ours at a garage sale for pretty much nothing.
The entire piece was primed using CIL Smart3 Primer and the final coat was Benjamin Moore Advance in Tropicana Cabana and Snowfall White.
Here's the final result of our modern vintage night stand: