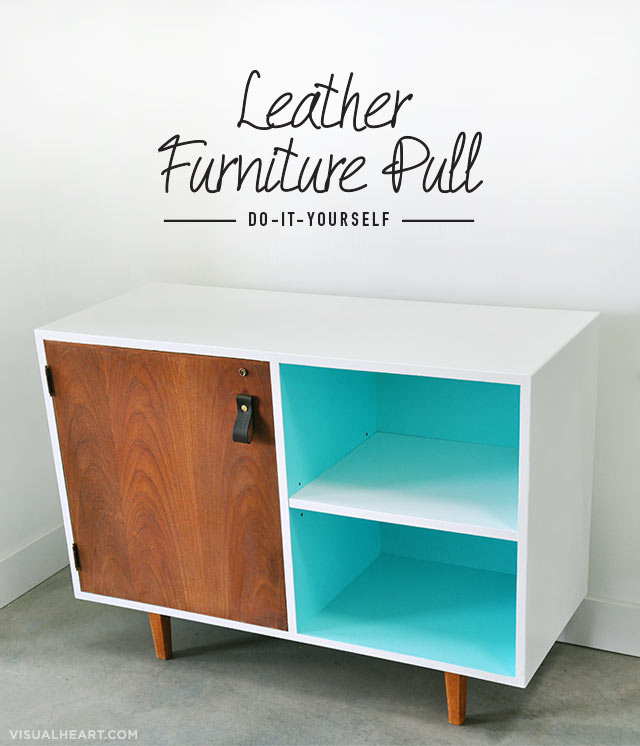 I recently posted a vintage cabinet before and after that included a DIY Leather Furniture Pull. I had seen a few online, but wasn't sure how it would work out, mostly because I wanted to be as thrifty as possible.
So I bet you're wondering, why go to all the fuss to make this when you can just buy ready made hardware and be done in 2 minutes. Well, I had an issue to hide, you see when I removed the old handle from the door, a big chunk of the wood veneer came with it and it wasn't an easy repair, so I sanded it down and tried to fill it in as best as possible, but I soon realized there was no way to fix it. So this leather pull was the ideal thing to cover the mess in a beautiful and stylish way and I loved the final result so much that I think this might make a regular appearance in future furniture projects.
So here we go, a Leather Furniture Pull Tutorial!
Supplies:
– An old leather belt (I picked up a few from my local thrift shop).
– Utility knife
– Screw driver
– Power drill with appropriate sized drill bits
(one for the male end and one for the female end.)
– Chicago bolt with matching screw of choice (available at Home Depot or Lee Valley)
Chicago bolts come in various sizes so you'll want to measure the thickness of your drawer/door
before making your purchase, each situation is different.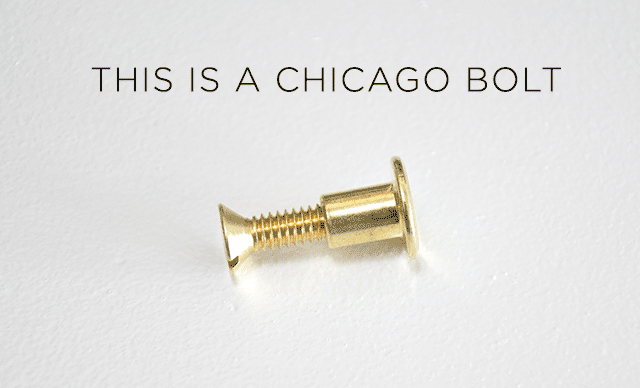 With your utility knife cut the length of leather to suit your door/drawer. You'll want to play around with folding it before making the final cut. I suggest viewing directions below before cutting.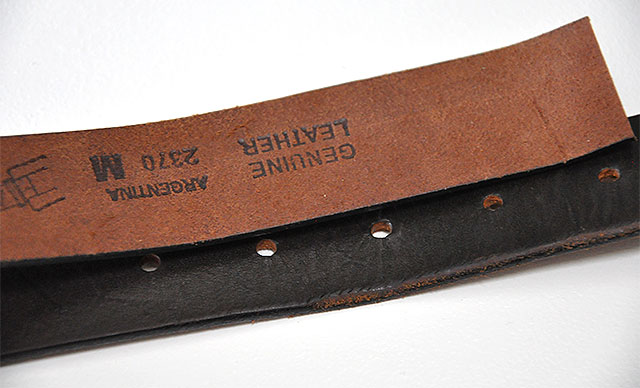 Fold your cut piece of leather and mark the center point, this is where you'll make a hole using your power drill. You could also use a leather punch to make the hole, but I'm on a tight budget so I used what we had around the house. Well technically Andrew did the drilling while I stood there and hoped it would actually work.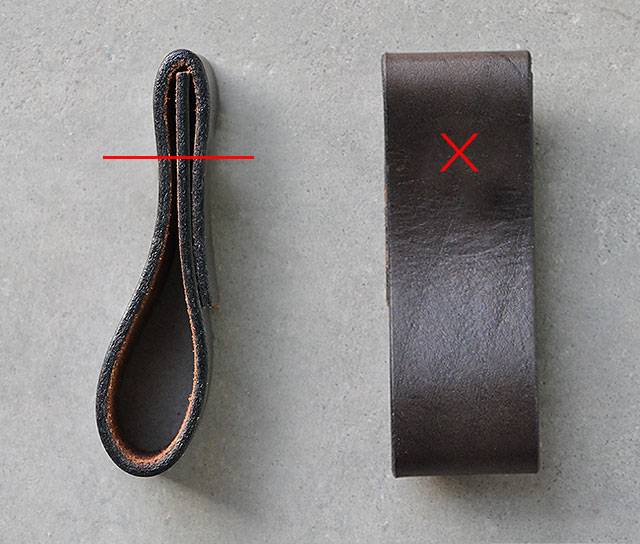 Once you've drilled the hole through your leather, you can screw in the male end of your chicago bolt.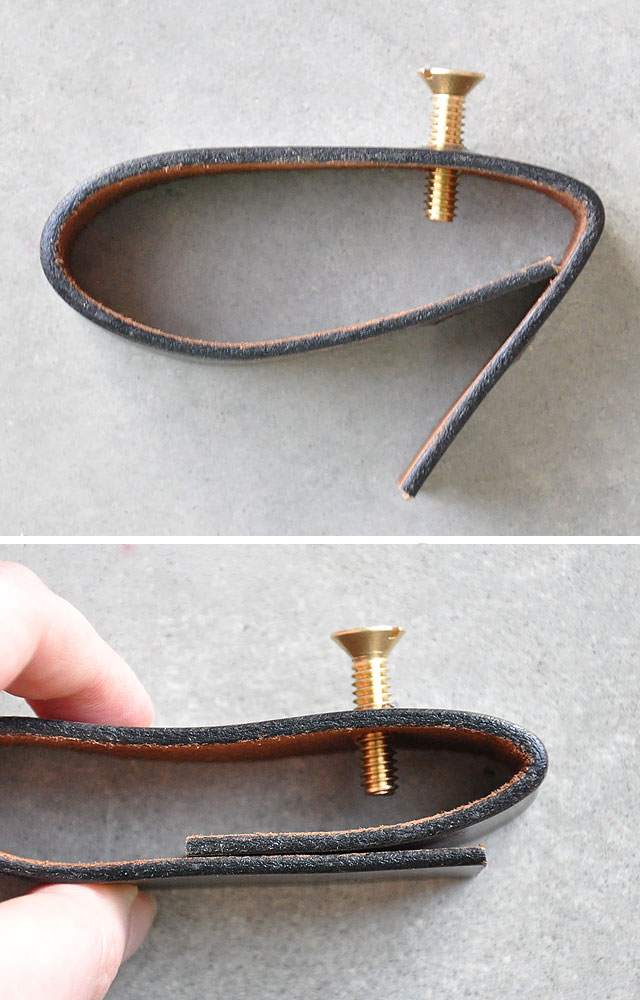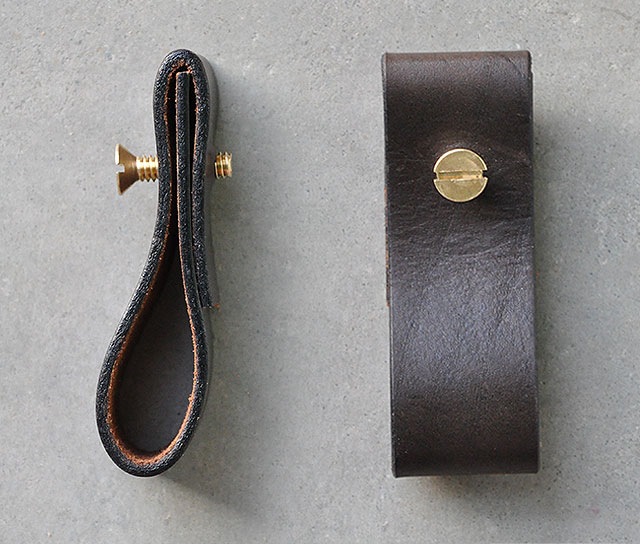 Now you'll want to drill a second hole in your door/drawer, this will hold the female piece of the chicago bolt and should be a tight fit, it's larger than the screw, so make sure to use the appropriate sized drill bit. Once the hole is drilled, push the bolt into place. It should look like the image below: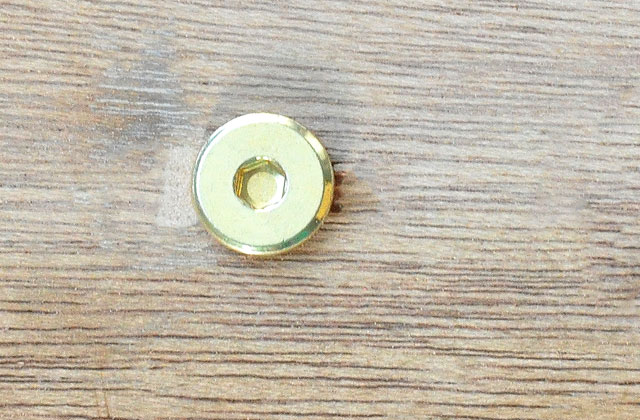 All that's left to do is screw your leather piece into the snuggly fit bolt and you're all set.