While I'm not big into holiday shopping and just buying "stuff" for people. I do love a thoughtful, functional gift and it's even better if they're made locally. Perhaps, brighten up someone's holiday season by giving them the gift of light this year.
Here's a few beautiful and functional ways to do it. I particularly love these hand-poured candles by Brand and Iron, because they are not only beautiful, but they are consumable so it's not just another tchotchke that will sit on a shelf or end up at the thrift store in a few years. See below to get an exclusive promo code for 10% off Brand and Iron holiday orders.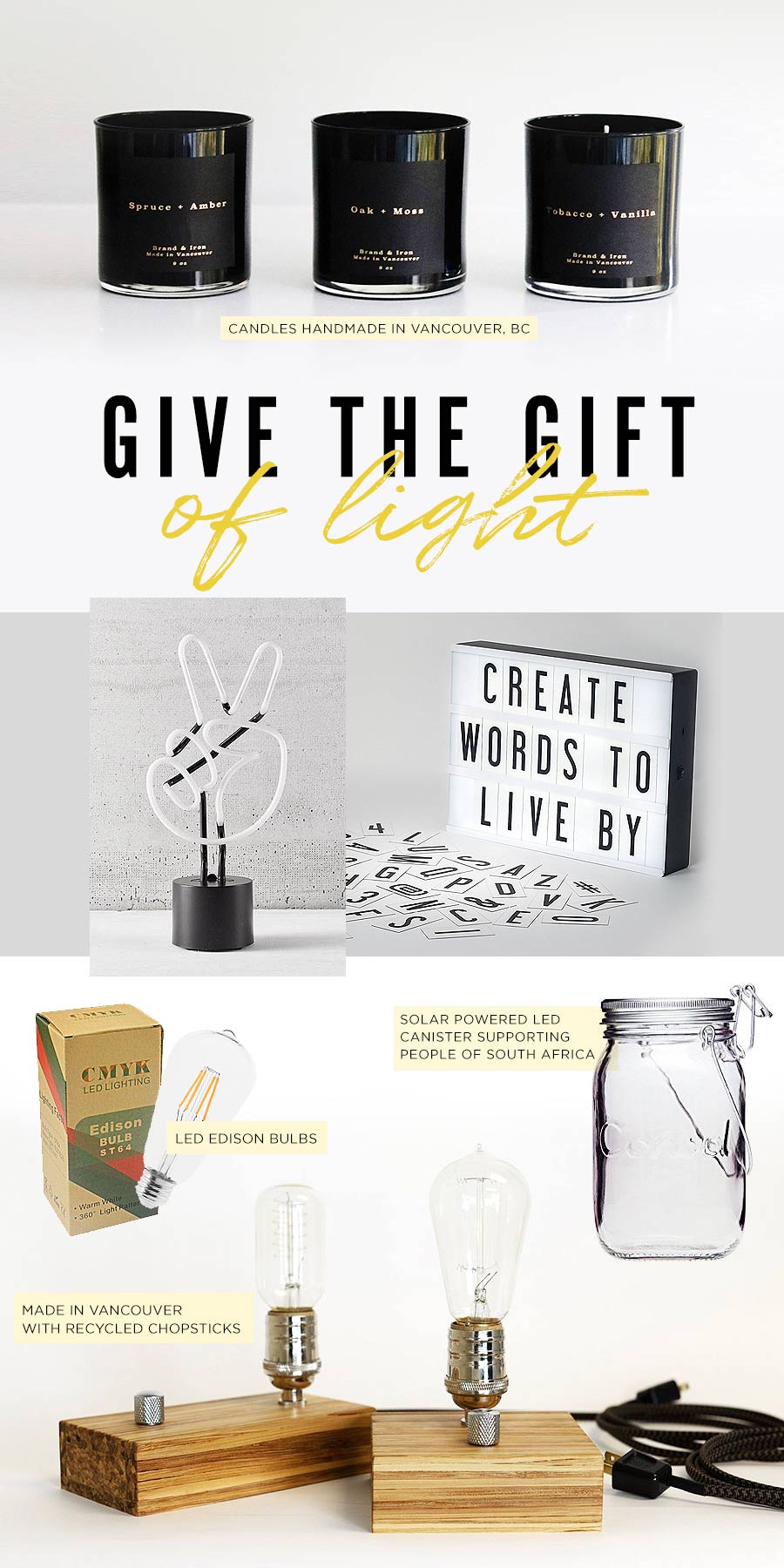 Brand and Iron
A local Vancouver company, everything is made by hand by Jordan Derhouson himself, using quality materials.
Visit https://www.brandandiron.com/shop
Use code "VISUALHEART" to get 10% your online holiday purchase
East Van Light x Chop Value
A collaboration between East Van Light and ChopValue, this light is made by hand in Vancouver using recycled chopsticks for the wood base. Preorder your handmade light today.
Consol LED Solar light by Sonnenglas
The production of the SONNENGLAS® has created jobs for over 50 previously unemployed men and women from the townships Alexandra and Soweto. It's handmade, which ensures the highest quality as well as durability. This light is great to add to your emergency kit, open the lid and add things inside like matches, photocopy of your passport/ID, so it all stays dry. We keep ours by a window to charge and I use it at night like a candle, it reflects beautiful light patterns on the walls and creates a beautiful mood. Shop this item on Amazon today.
LED Edison light bulbs
Get the look of an Edison light bulb without the hassle of them burning out. This new technology looks so much like a real filament bulb you'll be so surprised. You can find them at your local hardware shop, IKEA or online. Shop this item on Amazon today.
Neon Peace Light
This light is just plain fun but also functional. It will brighten your mood instantly and adds personality to any room. Purchase this light at Chapters Indigo or urban outfitters. If you're from Vancouver, I've seen it at local retailer Welks on Main Street.
Customizable Light Box
Awesome for the office, use as signage for events or in your home to brighten your day with just a few words. You can buy it from local retailer 'Make Vancouver' or Shop this item on Amazon today.