Confession, I usually avoid fixing up high boy dressers because they don't fit in our vehicle, so they're a pain to get home, but the owner of this piece wanted it gone so fast that he was kind enough to deliver it right to my door!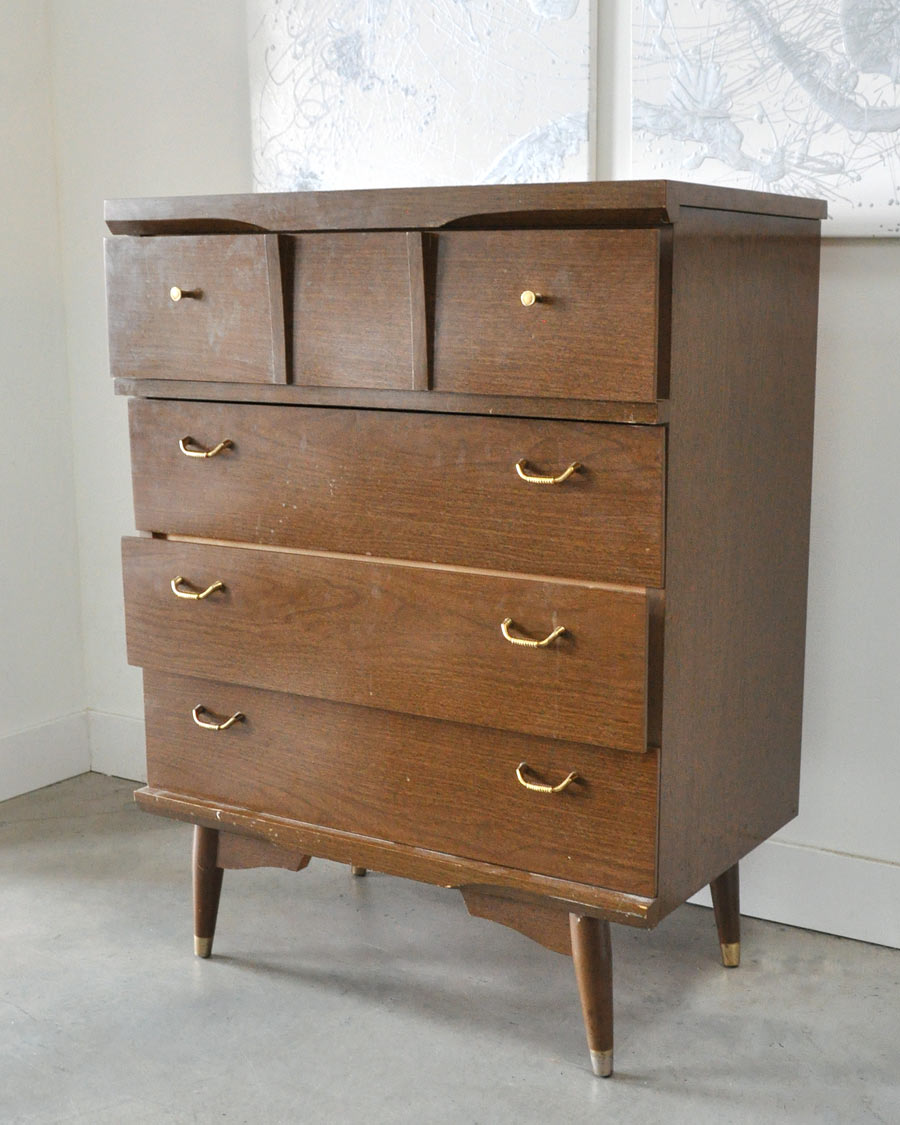 I loved the potential in this piece, the shape of the top drawer and the details on the front legs. This piece is solid wood, but it isn't nice wood. Many reproduction mid-century pieces are made from low-quality plywood and covered with a faux wood finish to make everything look consistent, it's not a laminate, it's more like a melamine painted wood effect that can be sanded off with some effort, but not worth it if it's just plywood underneath. The hardware while cute at first glance, was in really rough shape, the brass finish was peeling off, and they just felt nasty. I didn't think they were worth spray painting, so I decided to replace them, but I kept the top drawer knobs for another project.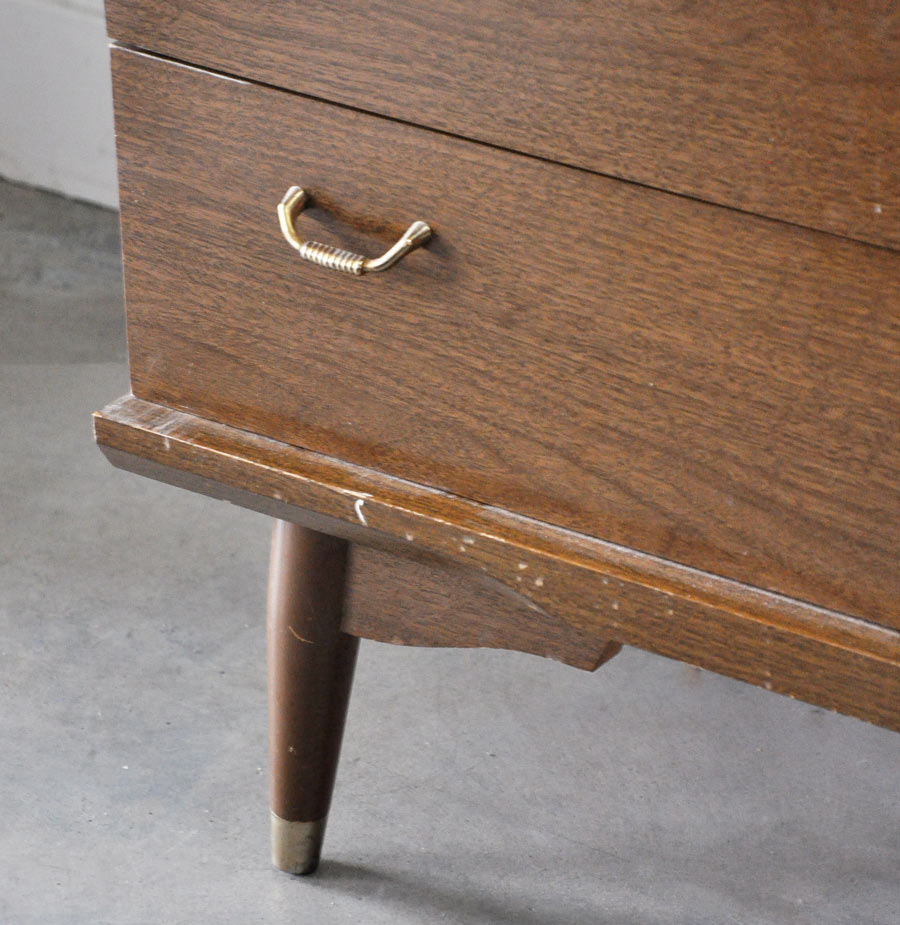 The first step was to lightly sand the entire piece to scuff it up enough so the primer would stick to it. I also had to fill the existing drawer pull holes with wood filler, let it dry and sand smooth. Once it was sanded and wiped clean, I applied a few thin coats of CIL Smart 3 primer. This primer seals in bad smells, stops any stains from showing through and preps the surface for top coat. Here's some photos of that process: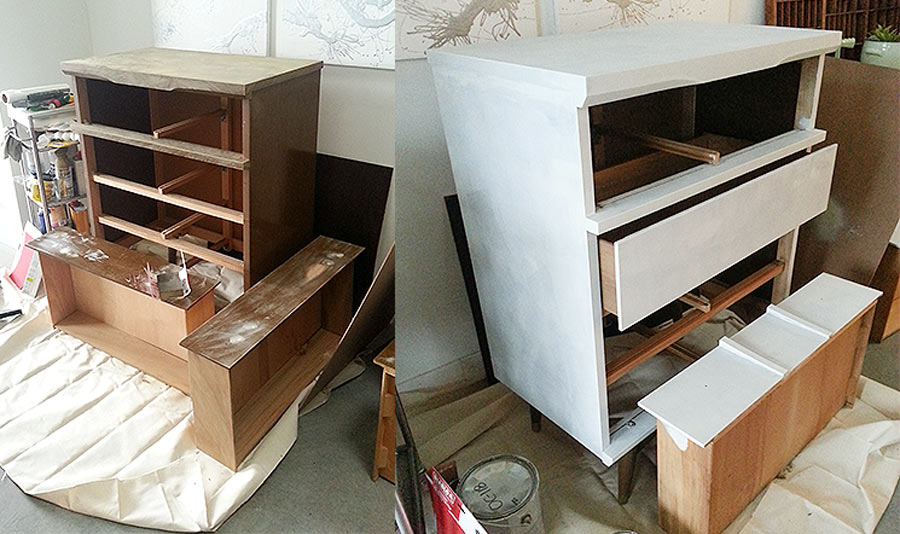 Side note: Andrew and I fix up these dressers in the middle of our living room. We put down a drop cloth and work in a small area, so if you tell yourself you don't have the space, think again, you do! It's a bit chaotic, but that's apartment life and it forces us to get it done fairly fast so we can clean up the space.
So, once the primer is completely dry I applied my top coat. I love the smooth high gloss finish of Benjamin Moore Advance. I apply it in very thin coats with a small foam roller. The key is to let it dry for several hours before applying another coat. Read the instructions on the can before application.
I saved the legs for last, I had a hard time deciding if I wanted to paint them or sand them down to raw wood. My boyfriend Andrew insisted that we sand them. I love the final result and I'm so glad he suggested that! Andrew sanded them down and applied a couple of coats of Tung Oil  to seal it and keep it natural. Here's the final results.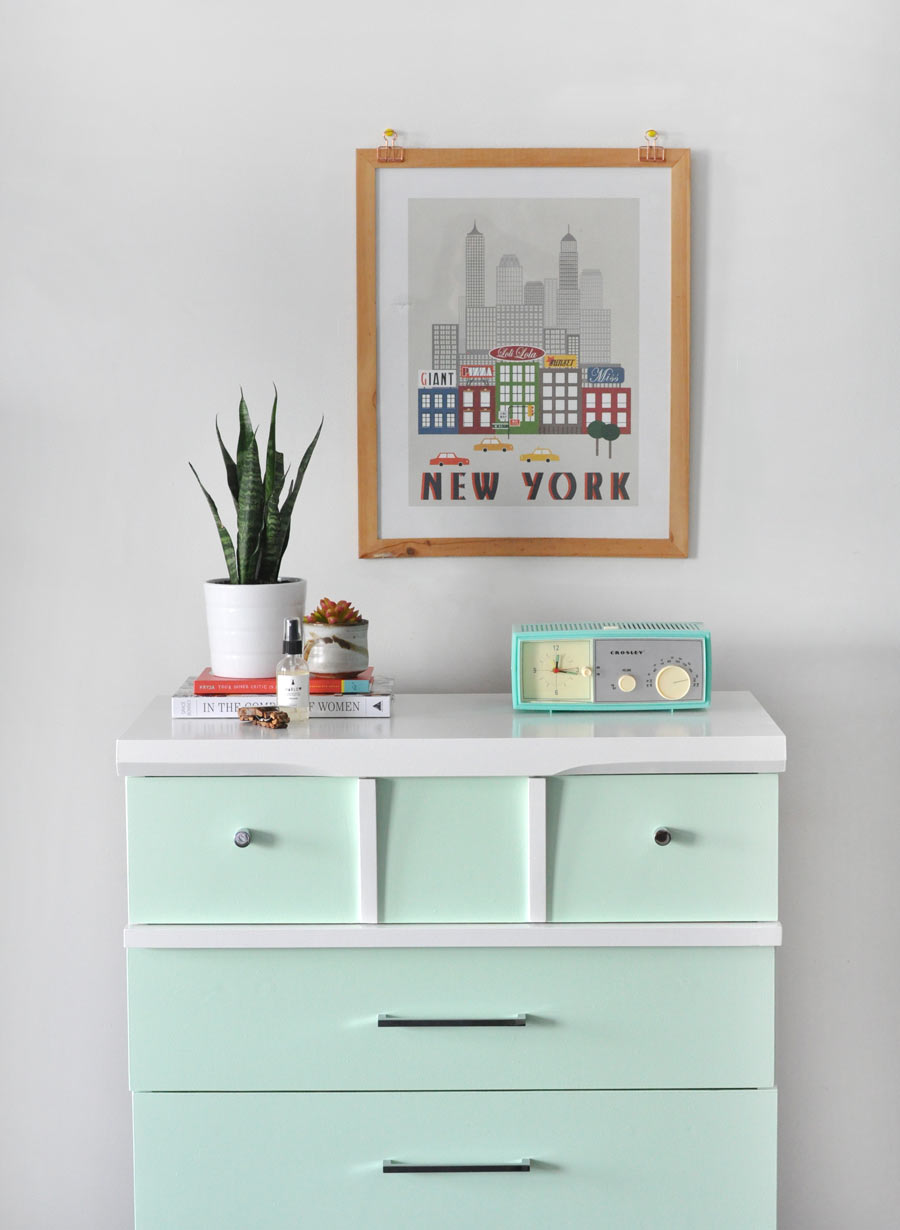 The new chrome hardware is from Marathon Hardware.
The color combination is Benjamin Moore Snowfall White and Benjamin Moore Mantis Green for a fun retro vibe.