I've been changing up my decorating style over the last few years, removing colour and moving towards natural elements like wood and textured fabrics. Since I live in an open plan loft apartment having too much colour can feel busy, including more natural elements creates a sense of calmness.
I got excited when I discovered UncommonGoods after they reached out to me to select some of my favourite items from their website.
If you don't already know, UncommonGoods is an online shop where you can find sustainable, recycled and organic products. They work with artists and small manufacturers to provide consumers with unique and well made products, their company mission is really awesome, you can read their full mission statement and learn more about them by clicking this link.
I've shopped their website and picked out some of my favourite items to add natural design elements to your home, they have so many items made with wood! Check it out:

The wood planter at the top is clean and modern, great for adding a pop of nature to a workspace or coffee table, check it out over here. Both of the light fixtures I've included are a similar style to the wood planter , you can find those in this link and this link. The wood slab table however is a lot more rustic, but has some modern metal legs to lighten it up, see more details about that table over here. Add in a small pop of colour with a graphic pillow, found over here and throw found here. The pillow and throw would look great on a neutral sofa.
Although I can't keep a plant alive in my apartment (seriously it's pretty sad) I feel like a terrarium might be the perfect way to add greenery without risking it dying too quickly! Find the DIY terrarium kits here. Lastly, good looking storage is always important in any space. These baskets are functional, yet stylish, shop for them over here, I'd use them for blankets and pillows or magazines.
UncommonGoods is not just for home decor, they are an amazing source for unique gifts for anyone in your life. You can find some really cool birthday gifts here: http://www.uncommongoods.com/gifts/birthday-gifts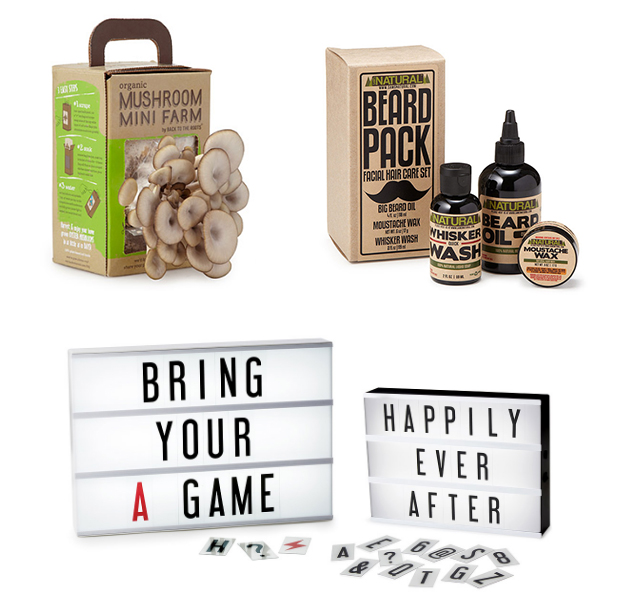 Alternatively if you're in need of a unique and custom wedding gift you can get custom personalized designs over here: http://www.uncommongoods.com/gifts/personalized/personalized-gifts
My most favourite section on their website are all the fun DIY kits they have available, bringing something from this page would make amazing house warming gifts! http://www.uncommongoods.com/fun/diy-kits/diy-kits  I personally love the mushroom mini farm, over here, I've always wanted one of those, how fun would it be to grow your own!
I hope I've shown you some interesting ways to add natural elements to your home and opened your eyes to unique, sustainable gifts for your loved ones.
This post was sponsored by UncommonGoods, but all thoughts, opinions and words are my own.