Do you need help figuring out how to style your coffee table? Guess what, so do I, kind of, but only because I'm having trouble finding a coffee table I love and that fits in the space. I don't have room for a large coffee table, something longer and narrow might be nice. I've been looking on Charish for some ideas, it's a great place for vintage and unique finds.
We currently use a vintage filing cabinet that Andrew has owned for many years, while I love the look of it, it's really not functional as it's fairly small. It has enough room for a few pieces of decor, but when guests come over there's really no room for drinks and food. My plan is to replace it someday or find a piece of marble I can cut to fit for the top of it, add small legs and perhaps add a second coffee table that's glass to sit overtop of it for a layered effect. But right now replacing it just sounds easier.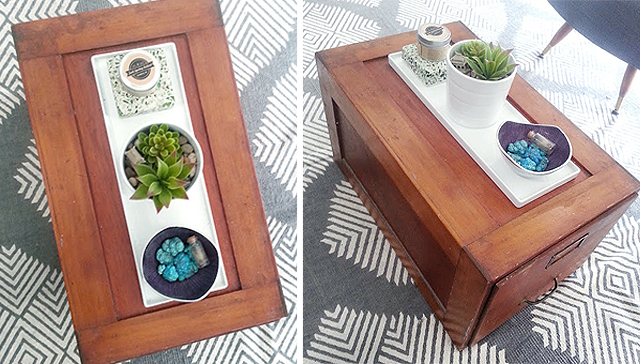 Below I'm showing a beautiful vintage coffee table from Charish and what I'd use to style it. I'm also sharing some tips on why I've selected these items to help you style your own coffee table.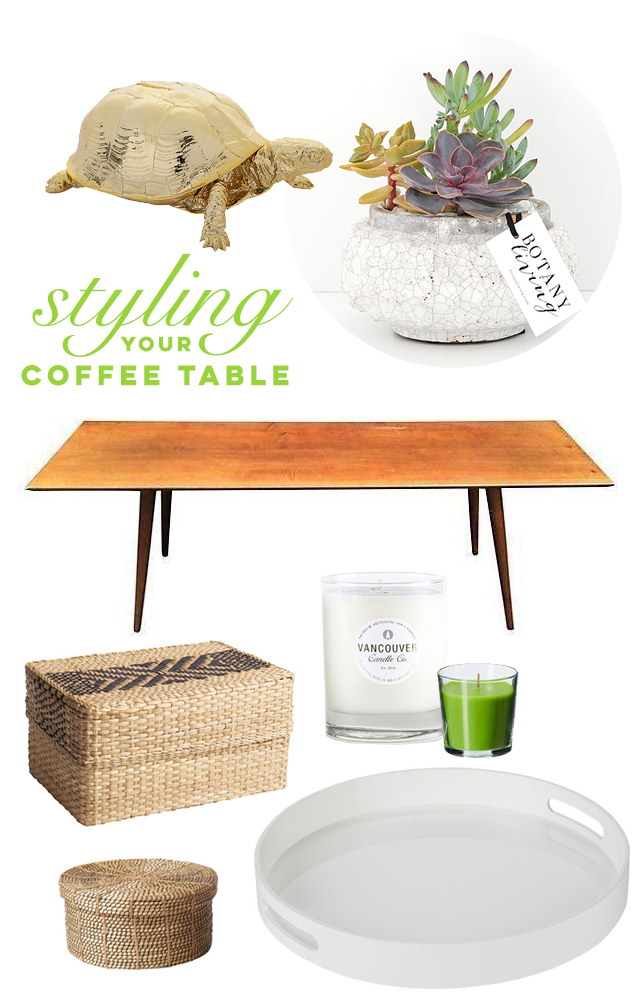 1. Plant Life
Plants make a space inviting and brighten up a table immediately by adding texture and colour. I love these handmade containers from Botany Living.
2. Sculptural Pieces
Adding a sculptural piece such as this metallic gold turtle adds quirkiness and personality, plus it's a talking piece when guest come over, plus his shell comes off for small storage inside! If you're not into metallics, think about adding something you got from your travels, ceramics, something handmade, these butterflies are quite beautiful too.
3. Candles
Not only do they smell great, it's a touch of luxury and creates a great mood in the evenings, especially if you purchase good quality candles from a local vendor. I love Vancouver Candle Co. and Woodlot in my city.
4. Tray with Handles
Having a tray on your coffee table is more functional than anything else. You can place smaller items like candles and plant life on it, creating curated style and when you need to use the table for entertaining, you can easily move everything in one go by moving the tray.
5. Baskets
Smaller baskets with lids are great for hiding ugly items like TV remotes, hand lotions, but they add visual texture and style, if can't fit it on your coffee table, they're great for side tables too.
Happy styling!