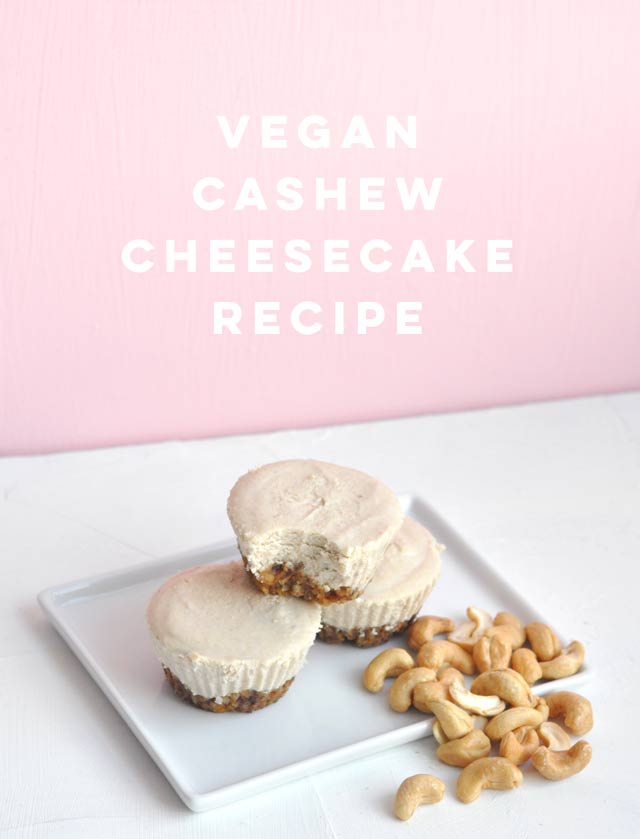 When the good weather comes out it always inspires me to try new recipes and I've really been into incorporating plant based recipes into our regular routine because I physically feel better eating less meat and dairy. I've really been inspired by the Minimalist Baker in recent months and my latest recipe love are these Vegan Cheesecake Cashew Cups.
With just 7 ingredients you can have a delicious dessert! They're so creamy and satisfying, perfect for when you're craving a treat but they're still somewhat healthy.
Ingredients:
Crust
1 cup packed (200 g) pitted dates
1 cup (120 g) raw walnuts
Filling
1  1/2 cups  raw soaked cashews (soaked in water overnight in the fridge)
1 large lemon, juiced (50 ml)
1/3 cup coconut oil, melted
1/2 cup + 2 Tbsp full fat coconut cream
1/2 cup agave nectar or maple syrup
Directions:
Soak your dates in hot water to soften for about 10 minutes. Add dates to a food processor and blend until small bits remain and it forms into a ball. Remove and set aside.
Next add walnuts and process into a meal. Then add dates back in and blend until a loose dough forms – it should stick together when you squeeze a bit between your fingers.
Using a standard muffin tin line it with silicone cups so they're easy to remove once frozen. Scoop in 1 heaping Tbsp of crust and press with fingers until compact. Set in freezer to firm up.
Add all filling ingredients to a blender and mix until very smooth. For the coconut cream, scoop the "cream" off the top when you open the can only only use that, not the milk, because it provides a richer texture.
Blend it until it's creamy and all comes together. Divide filling evenly among the muffin tins and freeze until hard, about 4 hours. They keep in the freezer for to 1-2 weeks if they even last that long. Nom nom nom.