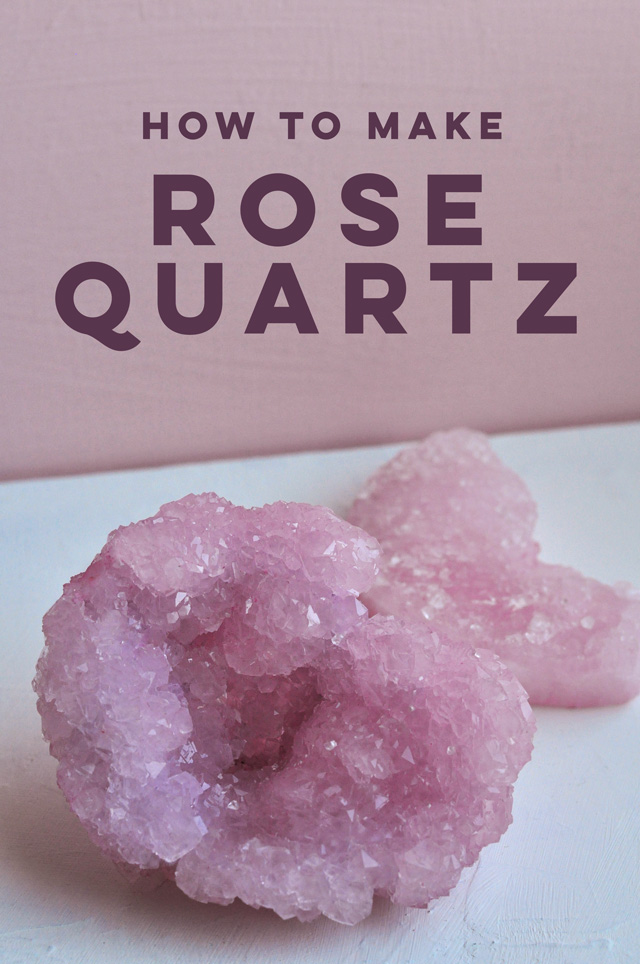 I made Rose Quartz crystals and I still can't believe it! This DIY project is easier than it looks. The idea came from the need for Rose Quartz for a work project relating to Pantone Colour of the year Rose Quartz. I really didn't want to pay lots of money for real Rose Quartz from the rock and gem store and I really didn't like the look of the fake ones from the big box home decor stores because they were usually over saturated with neon pink dye or just weren't the right colour.
This project takes about 20 minutes to make and another 6-10 hours of waiting time.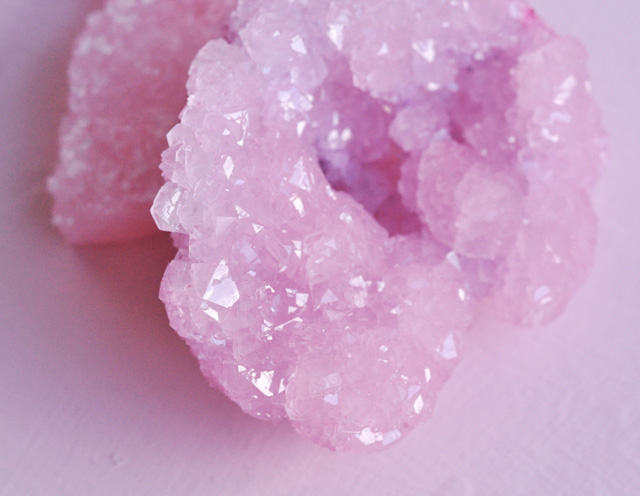 I initially found this project through fellow Canadian blogger Dans Le Lakehouse when she made beautiful turquoise crystals last year and while searching for more tutorials I found a youtube video from Emmy Made that walks you through the steps. So I recommend visiting those links for another perspective and more detailed instructions.
Supplies needed:
Borax – you can find this in the detergent aisle at your grocery store, it's likely on the bottom shelf
Food colouring
White string
White pipe cleaners
Water
Medium saucepan
Measuring cup
Plastic or hot water proof container
Pencil or wooden skewer
Directions:
Take your white pipe cleaners and weave them together to make a random somewhat round shape, this will be the skeleton for your crystals to grow on. Take a piece of white string and tie it to one end of your web structure. Take a pencil or chopstick and hang your web from it.
Boil about about 1 litre of water in a medium sauce pan. Once the water is boiling, add 2 cups or more of Borax, this is the key step, keep adding in borax until it no longer dissolves in the water, I kind of lost track of the actual amount, you can't go wrong, just use lots! The more the better and bigger your crystals will be. It's really important to have a really well condensed mixture. Make sure the water gets back to a boil. Add the food colouring, I used 10 drops of pink and 2 drops of purple. It will look really dark in the water, but the crystal will be much lighter (trust me). This is also something you can play around with as you make them.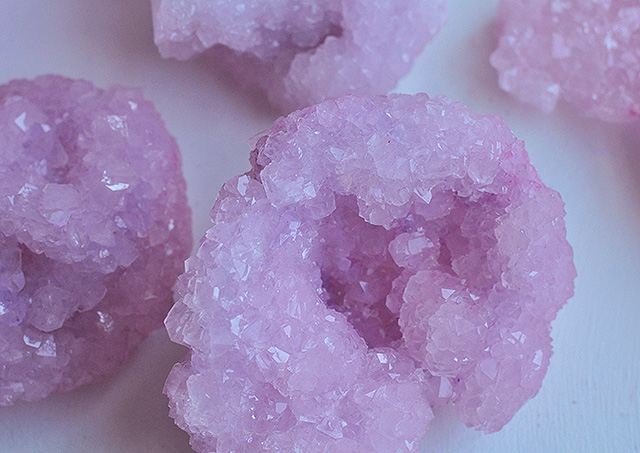 Grab your heat safe container, make sure it's actually heat safe, I made the mistake of pouring boiling hot water into a container that I thought could handle really hot water and it basically exploded from the shock of hot water (whoops!) For my second attempt I used a plastic yogurt container and it seemed to be okay. But as you can see in the links above they use a quality glass Pyrex beaker made for heat, so if you have one I'd say use that! The downside to using a plastic container is that the cooling process happens a lot faster so the crystals don't get a longer chance to "grow", as far as I know having a slower cooling process is better, but as you can see from my photos, they worked out!
Pour your boiling Borax mixture into your heat safe container. Take your pipe cleaner structure and immediately place into the hot liquid, dipping once or twice to remove air bubbles and then submerge completely and let it hang in the centre of the container from a pencil or skewer without it touching the bottom.
Let it sit undisturbed for 6-10 hours. Make sure it's located in a warm spot away from drafts so it can cool slowly.
Mine were formed in about 6 hours. The size of the crystals will depend on how much Borax you've put into your water and how hot your water is and how quickly the liquid cools.
Have fun with it, experiment with colours and shapes!