This maple sea salt peanut butter oat bar recipe is so good and (somewhat) good for you too. Filled with healthy fats from coconut oil and natural peanut butter. I'd also consider them low sugar because it's sweetened with maple syrup, but really I guess it's still sugar, but better for you because it's not refined white sugar. Although there is maple syrup in the oatmeal base too, you can make these delicious bars without the oatmeal base, they firm up in the freezer just as good without the oat base because of the coconut oil and the natural peanut butter, I'd even consider them a similar texture to fudge.
These little peanut butter oat bars are so satisfying, that subtle sweetness from the maple syrup goes so great with a sprinkle of sea salt.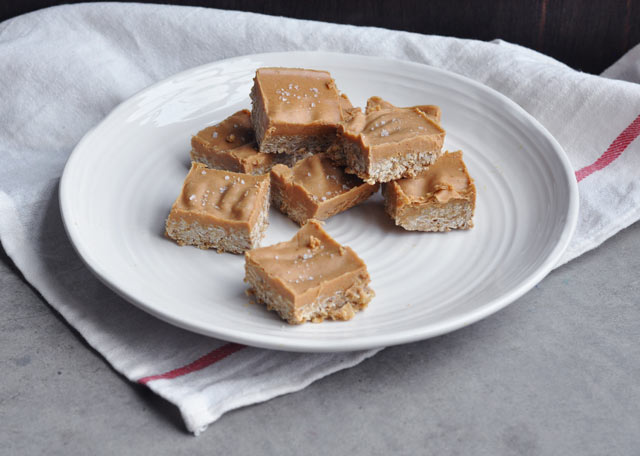 Maple Sea Salt Peanut Butter Oat Bar Recipe
Ingredients:
For the base (optional)
2 cups oats
1 tablespoon hemp hearts
1/2 cup flour
1/2 cup maple syrup
1/2 cup melted coconut oil
1/2 tsp baking powder
1/2 tsp baking soda
For the topping
1  1/2 cups of all natural peanut butter (the kind without sugar)
1/4 cup melted coconut oil
2 tablespoons maple syrup
1 pinch sea salt (to finish)
Directions:
In a bowl mix together oats, hemp hearts, flour, baking soda, baking powder, maple syrup and melted coconut oil. Combine well, if the mixture is still very dry, add a bit more coconut oil. Then, press into a 9″x 5″ pan. Bake at 350°F for 20-25 minutes until golden and firm. Remove from oven and let cool completely.
While the base is cooling, in another bowl mix together peanut butter, melted coconut oil, maple syrup. It will take a bit of effort to combine it all until it's smooth, but just keep mixing.
Once the oatmeal base is cool, pour peanut butter mixture on top to cover the oats. Place it in the freezer for at least 1 hour, cut into squares and sprinkle with a small amount of sea salt. Store in the fridge to keep the peanut butter from melting. Enjoy!
NOTE: You can make this recipe without the oat base, just mix the topping ingredients together, pour into a smaller bake pan to make thicker bars, set it in the freezer for at least 1 hour, cut into squares and enjoy!