It only took just over a year, but we've finally started the process to get our vintage mid century chairs upholstered. I had written about it many months ago and now it's finally becoming a reality!
So far Andrew has refinished the wood and cleaned up the brass on the arms and legs. Here's a before and after of that process. The arms and legs were sanded down to reveal the wood grain and a clear finished was applied.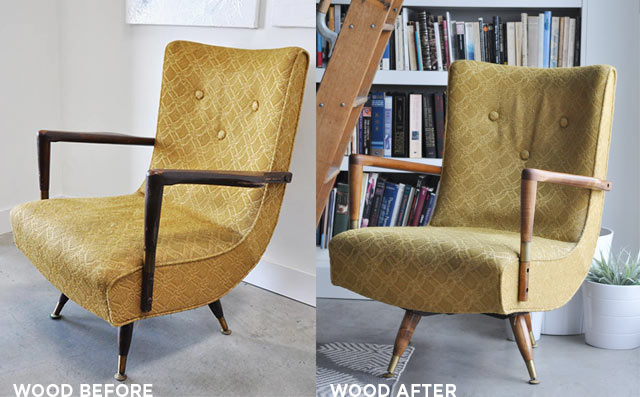 Here's some before photos of the 2 chairs, one chair is obviously in better condition than the other, but both have holes in the fabric.
The photo below is my dirty little secret. In all my instagram photos and blog posts this chair is nicely covered up with a pretty throw and a pillow so no one can see this nasty hole! I can't believe I'm showing you guys!!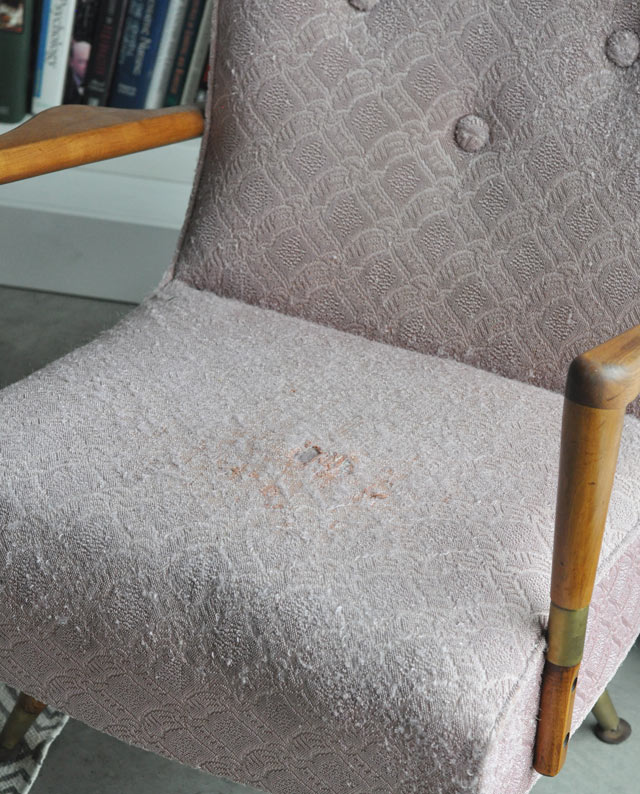 And that hole is my main motivation to get these chairs upholstered!
We're lucky to have a small business right near our home that focuses just on upholstery, so we're on the wait-list until March, but for now we've picked a fabric and paid a deposit! Progress!
A few years ago I got several quotes from a few places and they all came in with similar prices. One was a guy that does it by himself, he does contract work for larger companies and smaller jobs on the side. The others were various small shops in Vancouver.
In the end, I decided to go with Luxcious Upholstery on Main Street in Vancouver. I liked the fact that they've been in business for over 30 years and I'm pretty sure it's a family business. It felt great supporting a small local business. You walk into the small store and you can hear the sewing machines in the back room and it's the same person sewing that comes out to help you. They have so many projects on the go, that's why we have to wait until March!
Here's the grey textured fabric we've selected. It's called Stony Brook. The photo on the left is me holding it in the store and the photo on the right is taken from Maxwell Fabrics online catalog.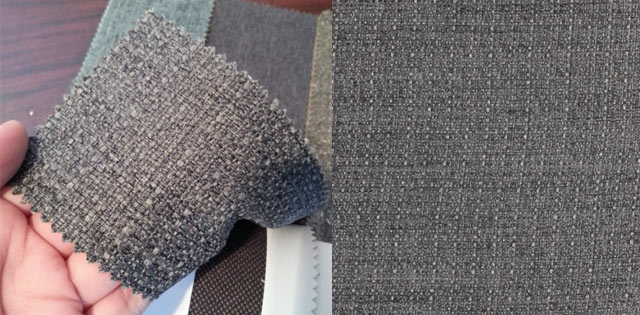 You don't want to know how long I was in the store going through fabric books, looking at all the greys in different light. It's funny how I'm able to pick colours and materials for client projects, but when it comes to something for myself I'm impossible! I'm my own worst client. Andrew and I had just about every fabric book open, comparing warm greys to cool greys, large textures to smaller textures. I think I was driving him crazy. At least we both knew we didn't want pattern and ruled out colour.
Just when I thought we had made a decision, my gut said no, the texture was too consistent and had a square like pattern in it that made me crazy, plus it was a bit too shiny. So we kept looking and that's when I found the swatch above! Just the right amount of variation to not feel overly retro, but then plain enough to feel modern and fresh. I really wanted a neutral palette so we can change up the throw pillows if we want colour in the space. And since we're investing quite a bit of money into these, I didn't want to hate living with 2 very colourful chairs 5 years from now.
I bet you're curious about costs!
The labour costs were $300 per chair and the fabric was $65 per yard (this varies depending on fabric choice) and the total cost will vary depending on how many yards you need. We needed about 3 yards of fabric per chair. There will also be added fees for new foam if they open them up and decide they need it, so the total cost for both chairs will come in around $1,000.
And that's why I'm terrified! I haven't spent that much on home decor since I purchased my sofa several years ago, we're thrifty shoppers and most of our furniture is vintage or used. Also, the fact that I have no way of really knowing how they will turn out also scares the crap out of me. But judging from the amount of pieces they do and the fact that there's a waiting list, I feel like I'm in good hands.
So why do I feel like the price is worth it?
It may seem like a lot to spend on chairs, but:
1. They really don't make furniture like they used to.
2. The structure, they swivel and rock and they're nice and streamline.
3. We got the pair for about $50, practically free!
4. It's better for the environment rather than buying new
Lets talk about fabric for a second. I honestly don't know a lot of about getting chairs upholstered, but I do know that you need to use a quality fabric and a quality fabric needs to have a double rub rating written on the back of the swatch, the higher the number the better the quality and generally the higher the cost per yard. Our fabric was somewhere in the middle, not too low and not too high. The double rubs number was 91,000, majority of fabric books we looked at were 25,000, but some where 125,000.
I hope this helps you make some upholstery decisions for your vintage furniture!
Keep checking back for the full reveal of the upholstered chairs sometime in March or April! Or maybe sooner if we get moved up the list! Eeeek!