It's been super hot in Vancouver this Summer and we're currently experiencing a drought, which is kind of ironic for a city that's known for it's rain. I miss the rain and cooler weather, but I know it will come soon and I'll be longing for the sunny days again. Anyway, I don't do well with heat and I'll do anything to try cool off, I like to indulge (a bit too much) in ice cream, but sometimes a little too much dairy can give me a stomach ache, so this recipe is an alternative for when you're craving ice cream, but don't want the dairy.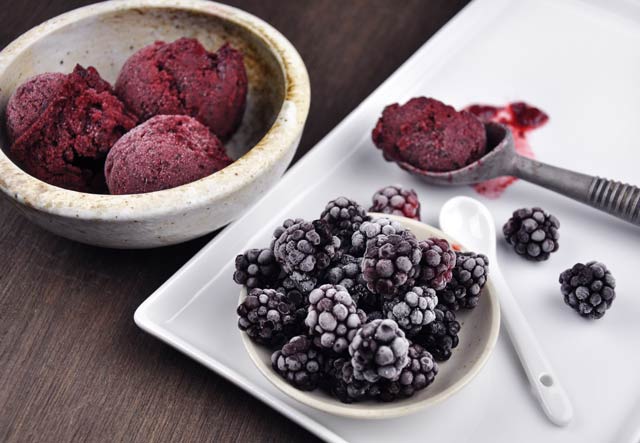 We picked a silly amount of blackberries the other weekend and I thought I'd experiment with this ice cream recipe:
Ingredients
5-8 Cups Fresh Blackberries
1 can Coconut Cream
1/4 Cup sugar of your choice
1 teaspoon Vanilla Extract
3 Tablespoons Corn Starch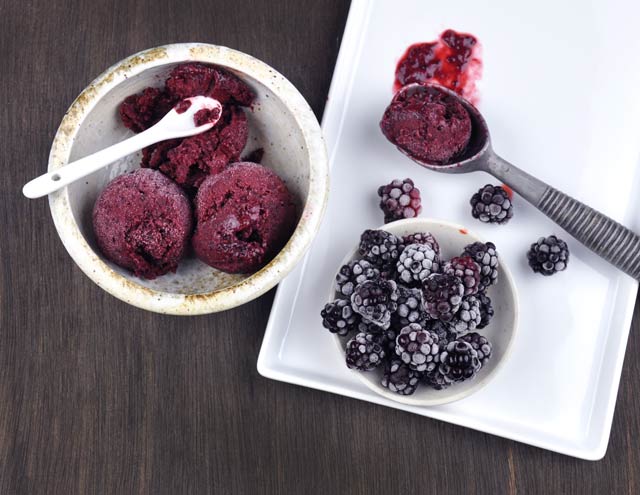 Directions
In a large pot, add berries and sugar, bring to a boil and then simmer for 20 minutes. In a small cup add corn starch and mix with just a bit of cold water until the corn starch becomes liquid. While the berries are still cooking, add the corn starch and stir quickly until combine, this will help thicken the mixture and help the ice cream set in the freezer. Let the blackberry mixture cool completely and then run it through a fine strainer to remove as many seeds as possible. (We skipped this step in our experiment, but once we sat down to eat it we realized it would be better without so many seeds.) Once strained, place the mixture in the fridge overnight. The next day open your can of coconut cream and stir into cold blackberry mixture.
Process in your ice cream maker as per your machine's instructions. I use a KitchenAid ice cream maker and it takes about 20 minutes for it to come together.
The texture of the ice cream is very much like gelato or sorbet. Enjoy!