Over 3 years ago Andrew and I made the plunge to move in together and move into a loft apartment. It was all very exciting and new. It was also pretty stressful because we did a super rushed renovation before we moved in and I'll tell you right now, never rush a renovation. The only reason we rushed ours was because of timing and we had the resources because my family works in the renovation business.
Our space is 1,100 sqft with the bedroom and one of the bathrooms upstairs. The ground floor has a kitchen/living room space and a small bathroom. Here's the floor plan, it's since changed a bit, but it'll give you an idea of the space we're living in.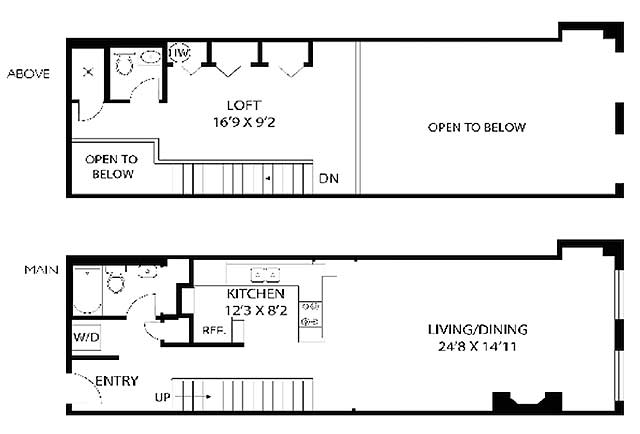 After a year, we finally felt settled in, but I started to notice some pros and cons of loft living. I'll start off by saying I love my loft, I love the lifestyle, but there are some things I really had to adjust to, so I thought I'd share them with you incase you're thinking of moving into one.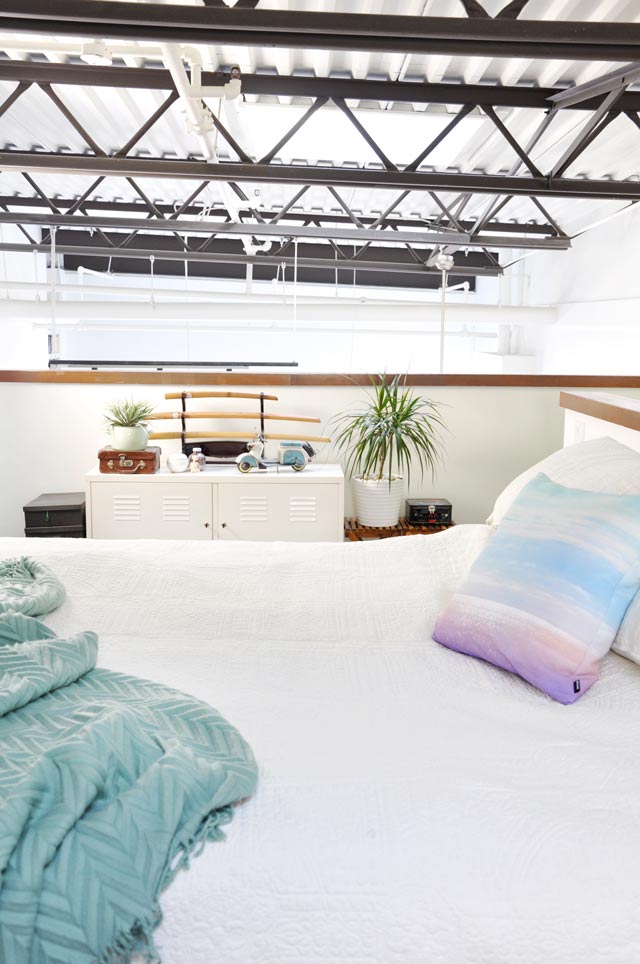 Wide Open Spaces
Not only was I getting used to living with Andrew, it was also an adjustment realising that he tends to stay up way later than me. So learning to sleep upstairs in the open loft area while lights are on along with noises from the tv or computer was a challenge. I no longer had that other room I could go to or that he could go to.
On the plus side, it's so great to have so much light and fresh air. Now that I work from home, it's really great not feeling like I'm trapped in a tiny office space. We placed our desk under the stairs right near the kitchen, so it's really central to everything.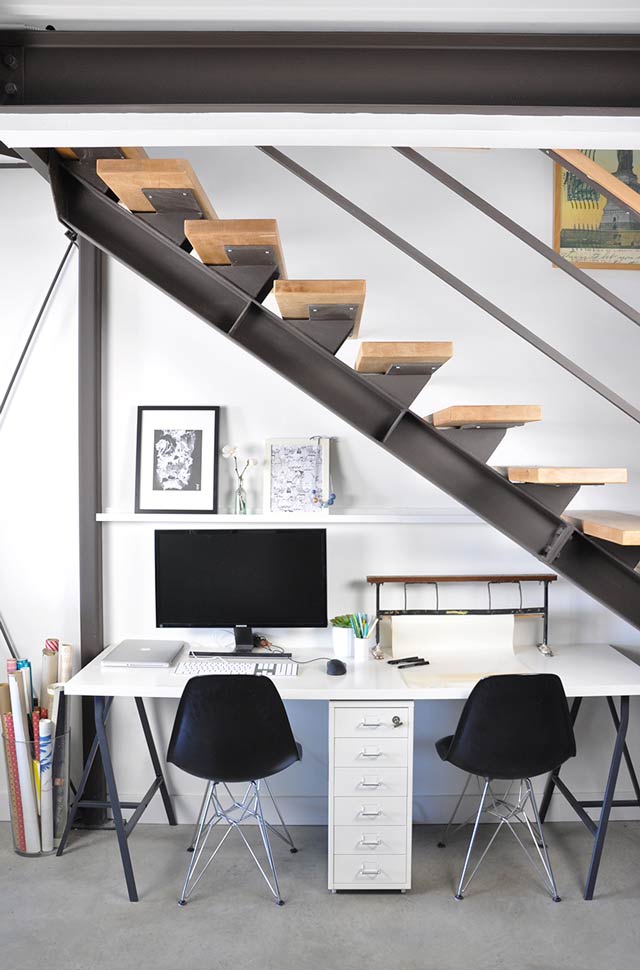 High Ceilings
While high ceilings are so beautiful, open and airy, they cause great pain when something way up there goes wrong. And I'm not talking disaster, I'm talking a tiny problem, such as when a lightbulb goes out. When a lightbulb goes out, it's a whole procedure to find or rent a ladder tall enough to reach 16 ft ceilings. We have yet to encounter changing a lightbulb, but we did install new track lighting and holy cow was that a fun time (not). There's also metal beams in the ceiling that get covered in dust, along with the ceiling fan and when you clean them the dust falls down onto everything, so I'll be honest, I rarely clean them because it makes my allergies go off like crazy. But as a whole, I wouldn't trade those inconveniences for the maintenance of a house any day.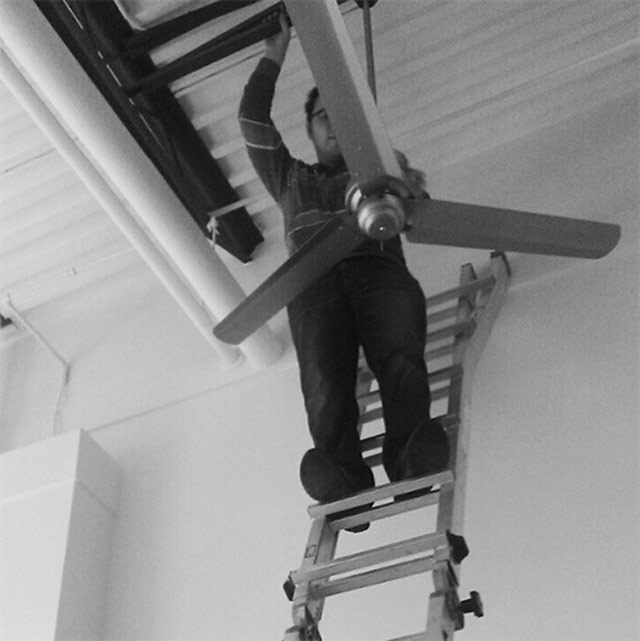 Andrew installing the ceiling fan, while I stand below and freak out
Storage
In a wide open space it can be tricky to find storage. This takes a lot of creativity. We've got a few small closet spaces, but we've also had to be inventive, putting things in vintage suitcases, vintage dressers, under the sofa, behind the tv console. Clutter is pretty ugly in an open space and as I mentioned above, there's no extra room where you can just put all your crap.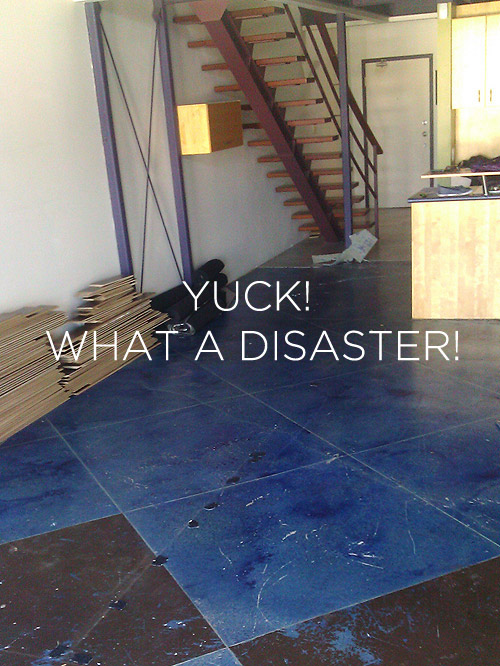 Flooring
A lot of lofts have concrete floors. Ours came with really bad vinyl flooring and the day we got the keys to the place, we were in there ripping it up. We crossed our fingers hoping there would be nice polished grey concrete floors under it, but instead they were painted a nasty blue and brown. You can read more about that over here.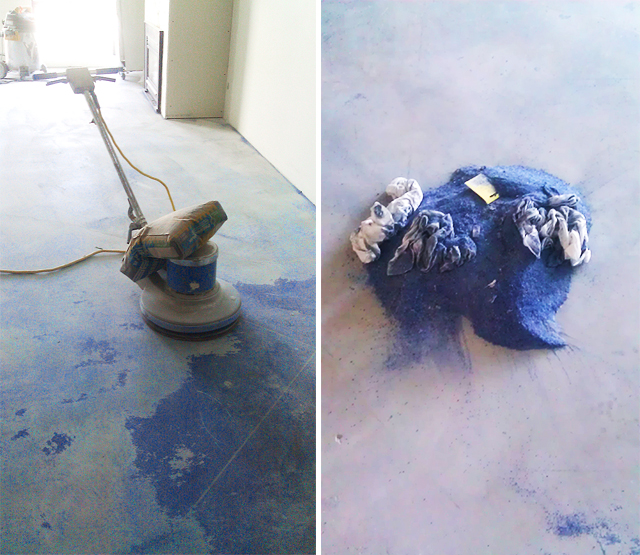 Anyway, we eventually got the grey concrete floors we wanted, but if you're a person that's cold all the time, you probably won't like them. I personally love the feeling of cool floors under my feet, but in the middle of winter it is pretty chilly, so I got used to wearing slippers and I placed a few rugs around the main floor. Overall they're awesome, they hide all the dirt and clean up well with a broom or mop.
I placed an 8×10 rug from Urban Outfitters in our main living area and I love it. it's easy to clean and adds some character to the space. I've also used another 5×7 rug in the dining area to help define the space since there's no walls.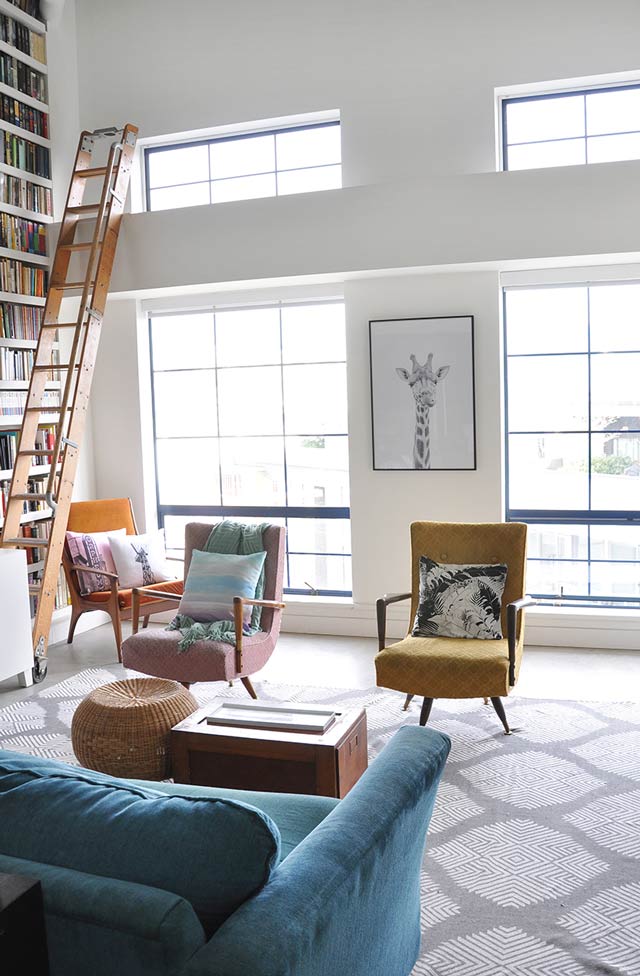 Light
There's so much incredible light almost all the time, to the point where I rarely turn on our lights. This can be awesome and annoying. I love taking photos, so all the light mixed with white walls really helps. Then there's those days when you just want to sleep in a little longer, but the sun is shining right on your face and you're forced to get up or cover your eyes with the blankets. It's not the kind of space where you want to have large curtains hanging, it just ruins the entire look of the space, so we just adapt to it and enjoy the natural light. I did recently install minimalist roller blinds on 2 windows just for some privacy, but we rarely use them.
Temperature
Many people ask if our place gets hot. The answer is no. We don't get direct sunlight and we have windows that open as well as 2 skylights that vent out the hot air that travels upstairs. We also have a large ceiling fan that circulates the air. I would think if we didn't have skylights and a ceiling fan and we had direct sun, it would be pretty hot in our space. So if you're looking into loft living, be sure to look for those features to help with air flow.
Overall, we don't see ourselves leaving this place for many years. It's a space that harnesses our creativity and makes us happy.
Got any loft questions? Feel free to leave them in the comments.