You're probably wondering, what on earth is babotie? Well it's a South African spiced meat dish that has an egg and milk topping. It may sound a little strange, but it's really delicious, especially if you like curry flavours.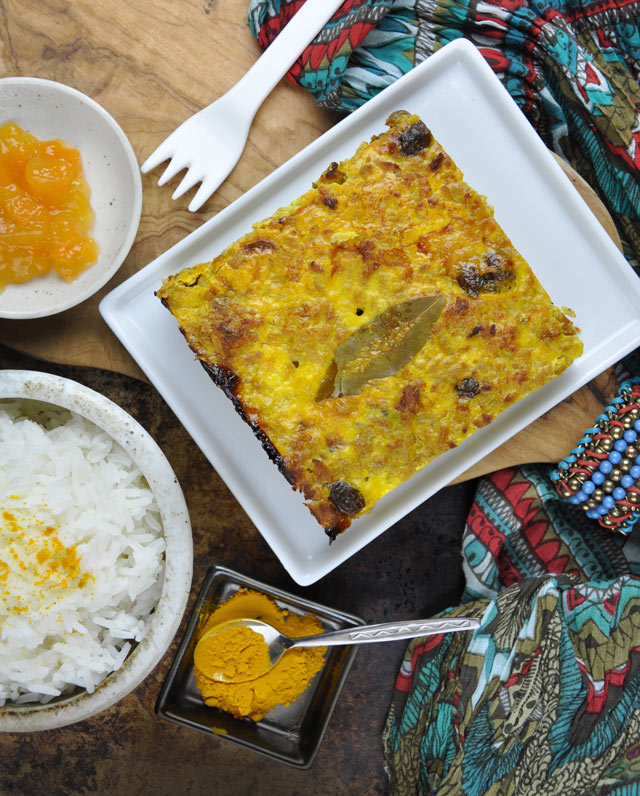 Growing up in a South African family, food was always a little different. My mom used to make babotie and I really loved it. I recently started making it myself because it's so easy, has lots of flavor and lasts for a few meals. Enjoy the recipe!
Ingredients
1kg ground meat (I like to mix lean turkey and lamb)
1 Onion diced
2 Tbsp Olive Oil
2 Tbsp Curry Powder
1 Tsp Salt
4 Tbsp Apricot jam
1 Tbsp Worcestershire sauce
1 Tsp Turmeric
2 Tbsp malt vinegar
1 handful raisins
3 Eggs
1 ½ Cups Milk
1 slice of bread
Bay leaves
Directions
Cube slice of bread and place in a bowl with milk. Leave to soak.
Heat oil in a large pan and sauté onions until soft. Add curry powder, salt, apricot jam, worcestershire sauce, turmeric and vinegar. Mix until combine.
Drain the bread from the milk and set the milk aside. Add bread, raisins and meat to the pan and cook on low heat until meat is no longer pink. Remove from heat and add 1 beaten egg. Mix well and transfer mixture to a large casserole dish. Flatten the top with a spatula.
Beat the remaining 2 eggs into the milk and add turmeric and salt. Mix well and pour over meat. Place bay leaves on top and bake at 350°F for 1 hour until browned.
Serve with rice and chutney.