It occurred to me that I haven't done any recent posts of our apartment. We've lived here for a couple of years now and things are finally feeling settled. After initial renovations and minor tweaks along the way, I'd say things are pretty much where we want them. There will always be things we want to update or change, but those projects will get done eventually and when our budget allows for it.
Today I'm sharing the loft bedroom. I haven't posted anything about this space because whenever I think to take a photo it's far too dark or messy, plus it's a very awkward space to photograph.
Check out the before photos:
Smelly old carpet and a dark purple ceiling making the low ceiling height feel even lower.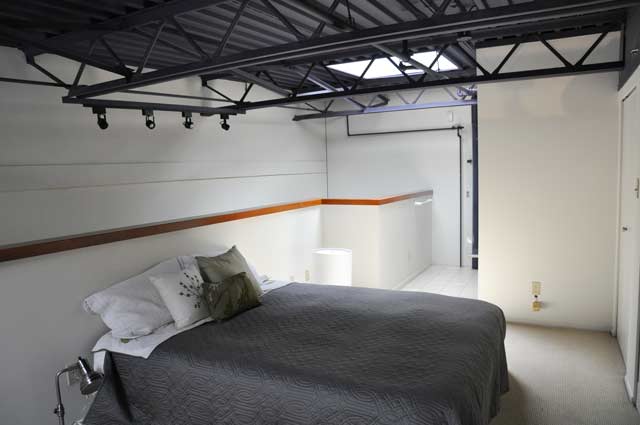 Bifold closet doors that didn't function nicely.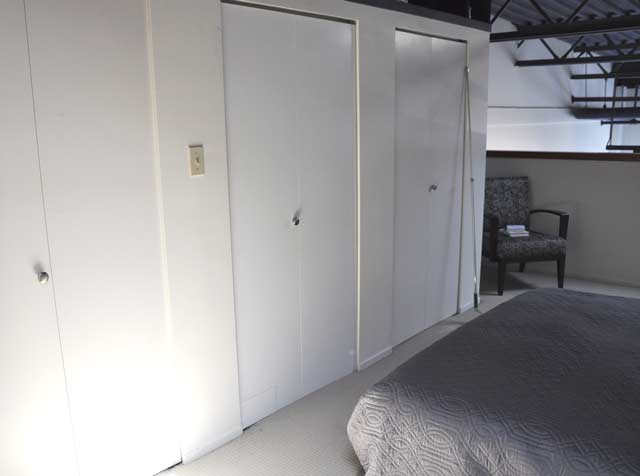 A strange little nook that could be way more functional. Also note the weird make-shift plywood "doors" above the closet.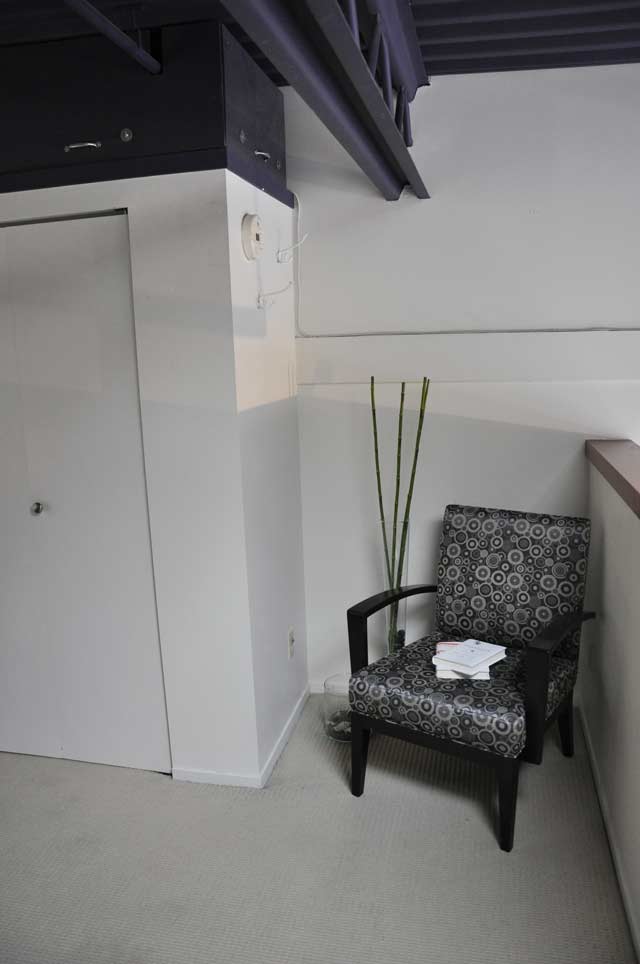 We immediately ripped out the nasty carpet and put in dark hardwood. We picked a dark wood to go with the dark beams we painted on the ceiling. You can check that out over here. But after 3 years of living in the space I wished we went with a grey wood floor to go with the grey concrete downstairs. The dark floors show a lot of dust and they ended up being a little darker than I would have preferred.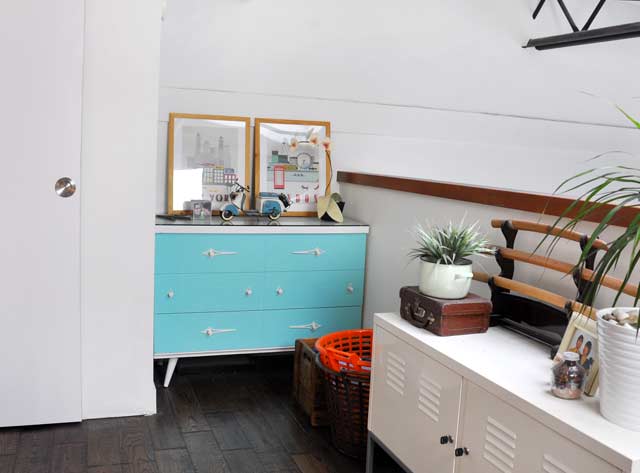 I found a dresser to fit into that awkward nook, it was a perfect fit and much needed storage. You can see the before and after of that dresser over here.
After painting the entire loft ceiling white, the entire space was so much brighter and felt so much bigger.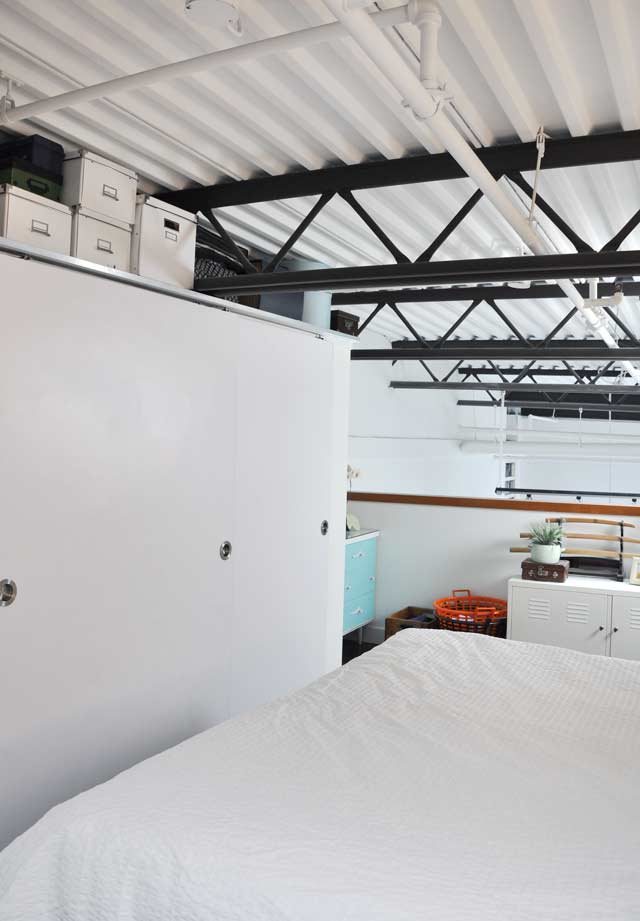 This is a view of the bedroom facing toward the bathroom that we renovated.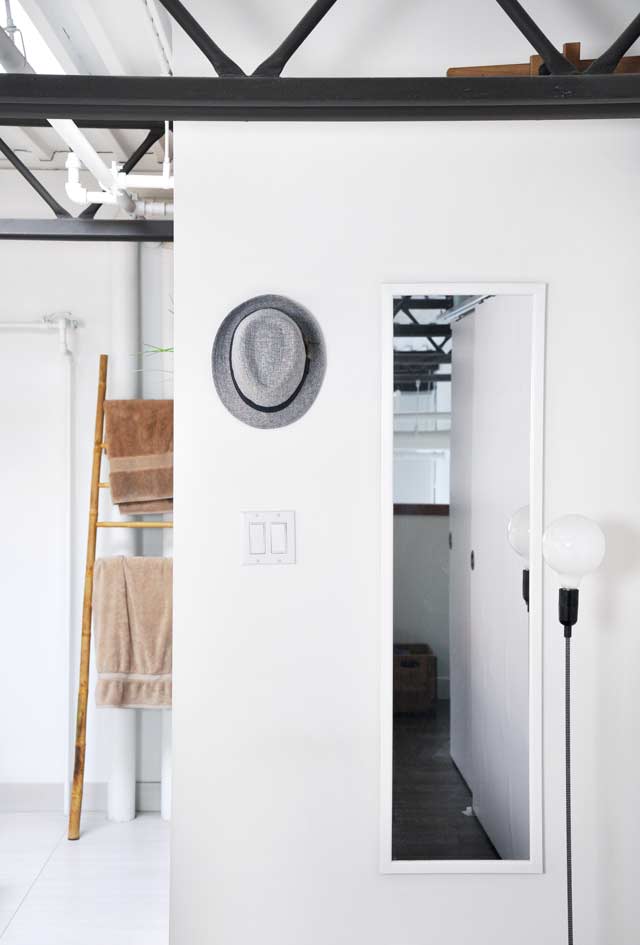 If you look closely at the photo below you can see the area of the railing on the right side where we started removing the red varnish. Over a year later and it still hasn't happend. I just can't deal with the mess it makes. Maybe someday….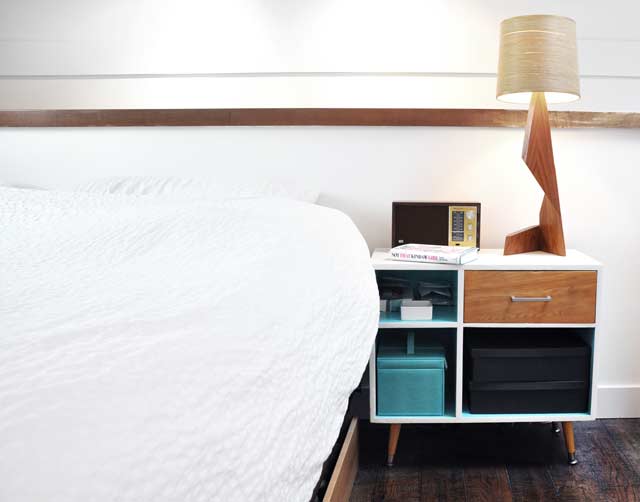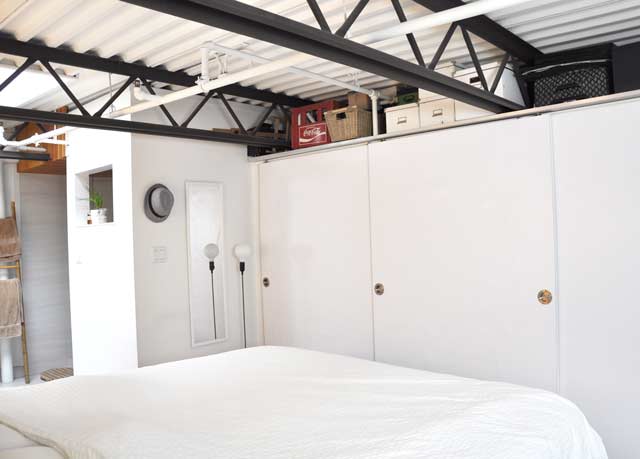 Here you can see we removed the bifold closet doors and installed a sliding barn door track system. It was very tricky trying to make it function with 3 doors, especially since they had to be custom cut to size since the height wasn't a standard door size. We initially wanted to install a sliding door system from IKEA, but they were all the wrong size. I was pretty sad, because it would have been nice to have some reflection with white glass doors like the FÄRVIK.

Our next plan is to deal with the open storage above the closet. I would love to get matching storage boxes that are all the same colour, but I have yet to find anything I like. IKEA used to carry a plywood storage box with a lid, but right when I discovered them, they were discontinued. Obviously the ideal situation would be an entire custom closet so that awkward area was built in, but that likely won't be in the budget for many years or ever (those things are expensive). So for now it's a hodge podge mess that stares me right in the face every time I'm laying in bed.
Here's a list of things we hope to finish in the bedroom area (someday):
– Above closet storage bins
– Cover the ugly bed box spring
– Better lighting
– Refinish wood railings (haha)
– Custom closet installation (in my dreams)
Here's a couple of side by sides so you can really see the difference: