Happy Friday everyone! I'm introducing a new regular feature on my blog called Friday Favorites. I'll be sharing a small selection of products, diy projects and home decor I discovered in the past week. Here's what I've spotted on Pinterest, Etsy and other sources this week. Basically, the internet is telling me to put some more color and pattern in my life.
I'm obsessed with the legging company I've shared below, Sweet Legs have so many awesome patterns and colors, I have yet to purchase a pair, but they're on my list of must haves!
I've included a couple of DIY projects, a super cute yarn valentine and a really awesome air plant holder. Also, a breakfast bowl, because that's kind of like a DIY, right? It's a smoothie bowl from The Food Gays. If you don't already know about these guys, I suggest checking out their blog for really great recipes and photos. I'm swooning over the breakfast bowls they've been sharing on instagram recently, so pretty and healthy.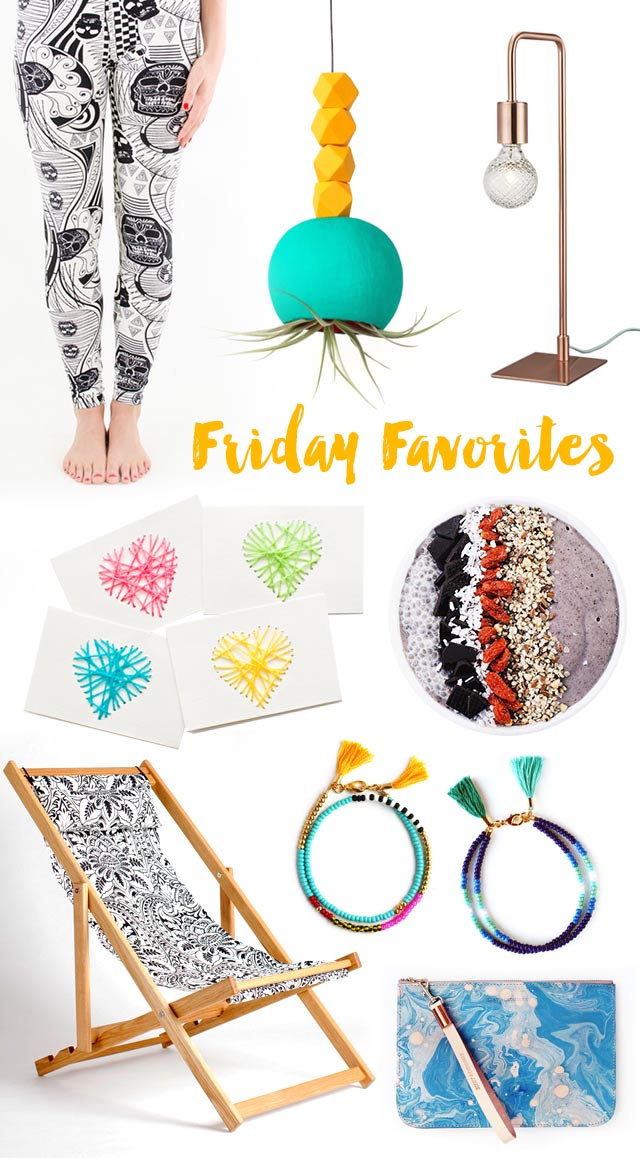 Leggings by Sweet Legs  / DIY air plant holder by The Crafted Life  / Lamp by CB2  /  Yarn Valentine by Hello Wonderful  /  Smoothie Bowl by Food Gays  / Deck Chair by Gallant & Jones  / Bracelets by Felt Like Paper  /  Clutch by Scout and Catalogue