This past year has been crazy, yes I literally mean crazy. That's the only way I can sum up the ups and downs I've experienced in my work life. I'm about to share details that I haven't shared with many people, I've just been too busy focusing on moving forward with my life to talk about what went on.
It all started when I lost my agency job of almost 8 years, it didn't end in the way I had always imagined in my head it would end. I won't get into details, but basically I wasn't getting paid for my work so I was forced to come to terms with reality and say goodbye, but it wasn't a clean cut, I still had to pursue getting my money, because I wasn't going to let that slide, I needed to stand up for myself. It took many months filled with stress, paper work and standing up for myself, but I did end up getting what I was owed, but my gosh it was stressful!
Shortly after I left my agency job of almost 8 years, I got a job, this only lasted about 4 months, as I really wasn't the right fit for that place. I learned a lot and that experience opened my eyes to design processes and organizational skills. I walked away with a lot of new knowledge and an understanding of what direction I do not want to move in. It helped point me in the right direction, and for that I'm grateful, although in the moment I was quite stressed and freaked out about my unknown future.
After working full-time for 8 years at one agency I missed out on a lot of learning opportunities. Who knew that people were getting paid through their work to go and take classes to expand their skills?! I sure didn't! I also never got opportunities to go to events to learn new things because I was at my desk working. Don't get me wrong I'm not regretting the past 8 years of working full-time, I just feel like my life was too stagnant for too many years and I'm finally making a change.
A few months later, living on Employment Insurance and job searching like a crazy person, I was hit with a realization that there were no job postings for print focused graphic designers, unless I wanted to work for $10 an hour. Everyone wants to hire graphic designers that can be a project manager/web designer/programmer and do a little bit of print design, oh and while you're at it, do a bit of social media management too. I can't imagine how on earth a person with all of those skills could possibly be very good at all of them. I'd imagine they'd be just okay at a few of them and faking their way through all the others. I sound overly dramatic right now, slightly jaded and bitter, but it's the honest truth of the current design market, especially in my city and it makes me sad.
I like to believe in the idea of doing one thing and doing it very well, but apparently the job market doesn't think so.
While I was feeling very frustrated with the lack of jobs, I was getting freelance design offers, but I was always afraid to accept larger projects because I had this vision in my head that I was going to find a full-time job and I'd never be able to finish the project. So I kept saying no to opportunities because I kept telling myself "what if…" I guess you could say I had commitment issues?
Time passed by, my Employment Insurance ran out sooner than I expected (I'd never been on it before and wasn't totally sure how it worked). That's when real panic set in. It was time to make a decision.
So here I am, presently figuring things out, becoming a freelance designer, setting up my home office and doing my best to find new business. It's scary, exciting and filled with so much uncertainty. Uncertainty scares me so much, because for years I was used to a steady schedule, regular pay cheques and medical coverage, but it's time for new adventures and hopefully this new path will bring me success and happiness.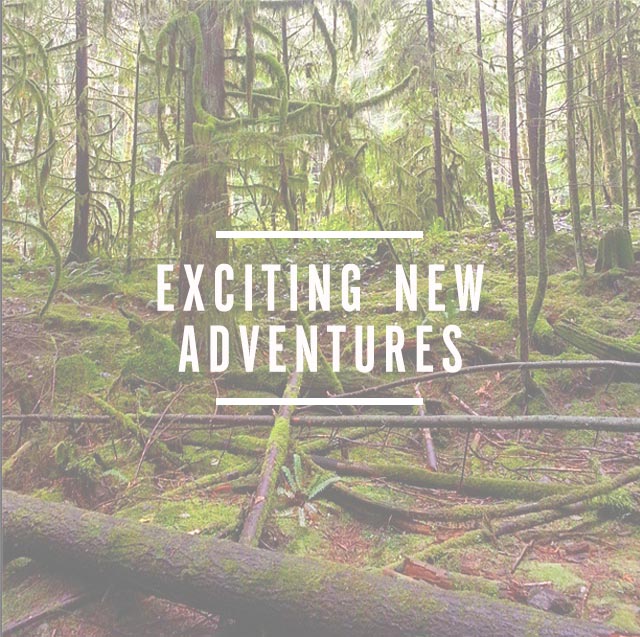 Since I've been working from home, I'm starting to realize my desk setup isn't 100% ideal, no matter what I do, it feels dysfunctional. It probably doesn't help much that I share a desk with my boyfriend Andrew.
We recently purchased a 28″ monitor that we share, so the desk isn't just for one person, I use it during the day and Andrew uses it at night. We don't have the budget right now to purchase anything new for the office, but I've decided to make an inspiration board to help me visualize what it could look like when I find the extra money to make it happen.
Here's what it currently looks like: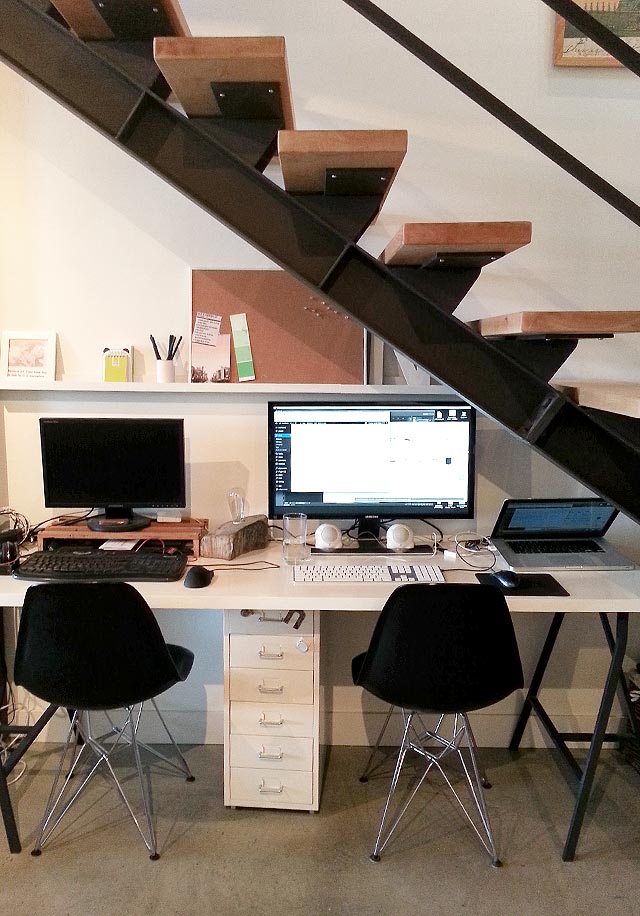 I know you're thinking it's really not that bad. Yes, visually it's good, but it's lacking function, especially with all those cables and a lack of space for paperwork.
Since we purchased the large monitor on the right, the smaller monitor on the left no longer gets used. In the evening I move my work out of the way and Andrew uses the space. Purchasing a second monitor might seem like the solution, but it just seems excessive. Plus the old monitor still works for those rare times that we're both on the computer at the same time.
The Eames style chairs are very pretty, but not for sitting in the entire day, I need to find something with more support. Our office is 3 feet away from the kitchen, tucked under the stairs in our open plan apartment so it can't be too ugly or large.
We upgraded to the white table top after I found it on craigslist for almost free, before that we had 2 fir boards that were screwed together as a temporary fix when we first moved in. The white table top needed to be supported in the middle so I added this small Ikea cabinet I had from my previous apartment. The wall above felt empty so I added an Ikea picture ledge for some art and organizational tools.
Basically I want to add in a few items to make things function better, but still look decent. Here's a few items I'd love to add to our space, keeping it somewhat masculine because it's a shared with a boy.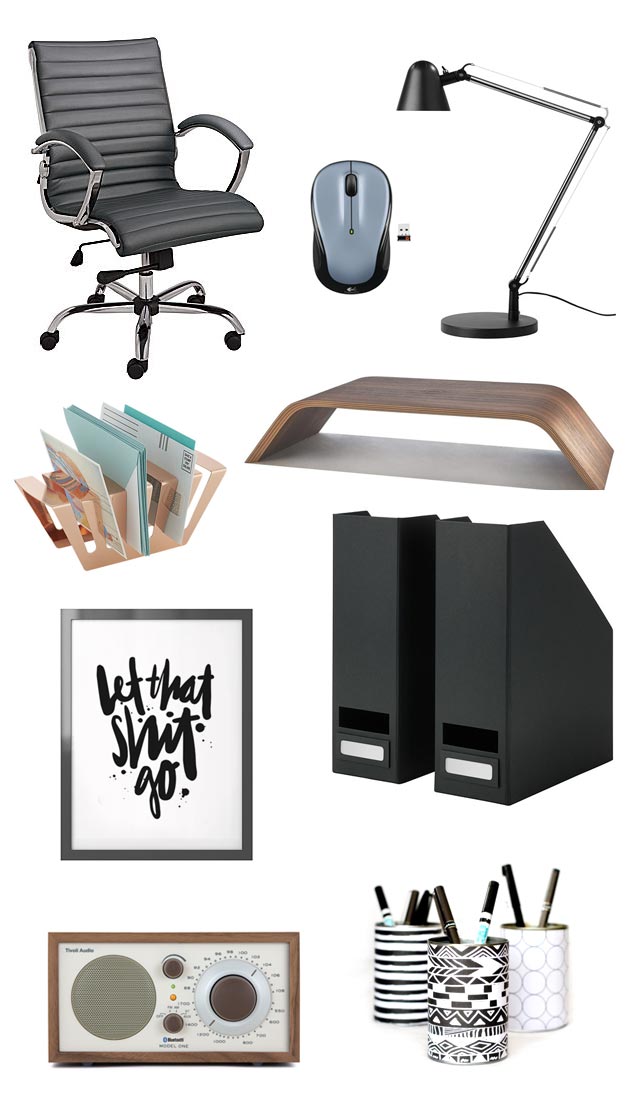 Office Swivel Chair  /  Wireless Mouse  /  Task Lamp  / Mail Organizer  / Monitor Stand  / Art Print  / Paper Organizers  / Small Radio  / DIY Pencil + Tool Holder