After doing renovations to our apartment and being on a super rushed timeline in the process, I occasionally have regrets about certain decisions we made in terms of design. Don't get me wrong, I really love everything, but you know that feeling when you spend hours browsing Pinterest and fall into an imaginary world of dream homes and wish you could just change things up easily because you're currently in love with a certain style.
I flip flop so often between loving minimalist black and white designs to colourful bold spaces with lots of playful art and accessories. Lately I've really been liking a clean black, grey and white look with an occasional pop of colour in smaller accessories. I've pulled together some black bathroom inspiration to go with this high-gloss vanity from decorplanet.com. I infused a tiny bit of pastel green just because it makes me smile.
I like mixing modern clean lines with a tiny bit of rustic charm to soften the edges a bit. You'll see below the black gloss  floating bathroom vanity that I mixed with raw Edison bulb cord lights and a fun pebble mat. Under that is wood flooring, but wait, it's not actually wood! It's a tile that's made to look like wood so it's perfect for a bathroom. This warms up the space and provides texture to contrast with the glossy vanity.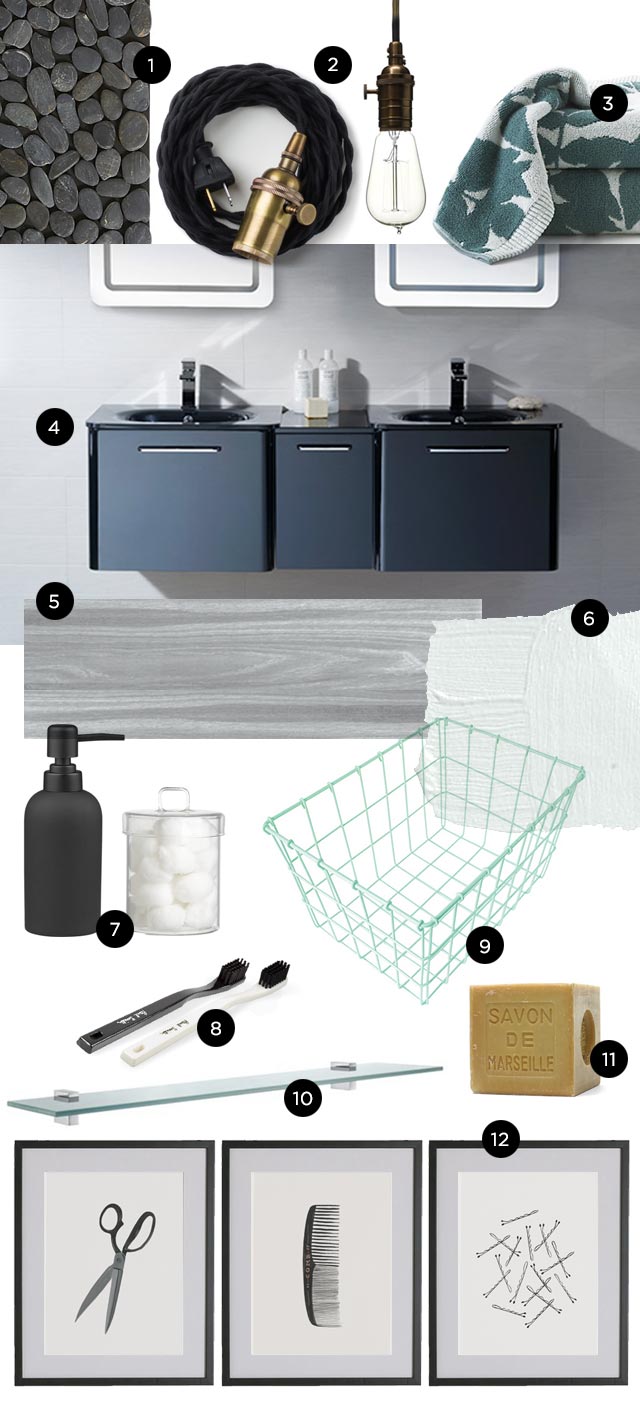 1. CB2 pebble rug / 2. Old Faithful Shop / 3. Crate & Barrel / 4. decorplanet.com / 5. Olympia Tile / 6. Benjamin Moore / 7. CB2 / 8. Paul Smith / 9. Think and Ink Studio / 10. decorplanet.com / 11. Old Faithful Shop / 12. Rifle Paper
This post features product sponsored by decorplanet.com