Another one bites the dust! Literally. This project was one of the messiest I've done to date. This vintage dresser required a ridiculous amount of sanding. Luckily Andrew was willing to sand it.
What we didn't think about was that it's made of plywood, meaning that too much sanding can actually ruin the surface appearance. Since plywood is made from hardwood, soft wood and glue, if you sand too hard, the soft wood just disappears, while the hardwood comes to the surface creating a wavy appearance. Unfortunately we had to sand aggressively in order to remove the layers of ugly pale pink and off white paint and smooth out the recess created from removing those giant round knobs. All I could do was hope that several coats of primer and self-leveling oil paint would fix everything.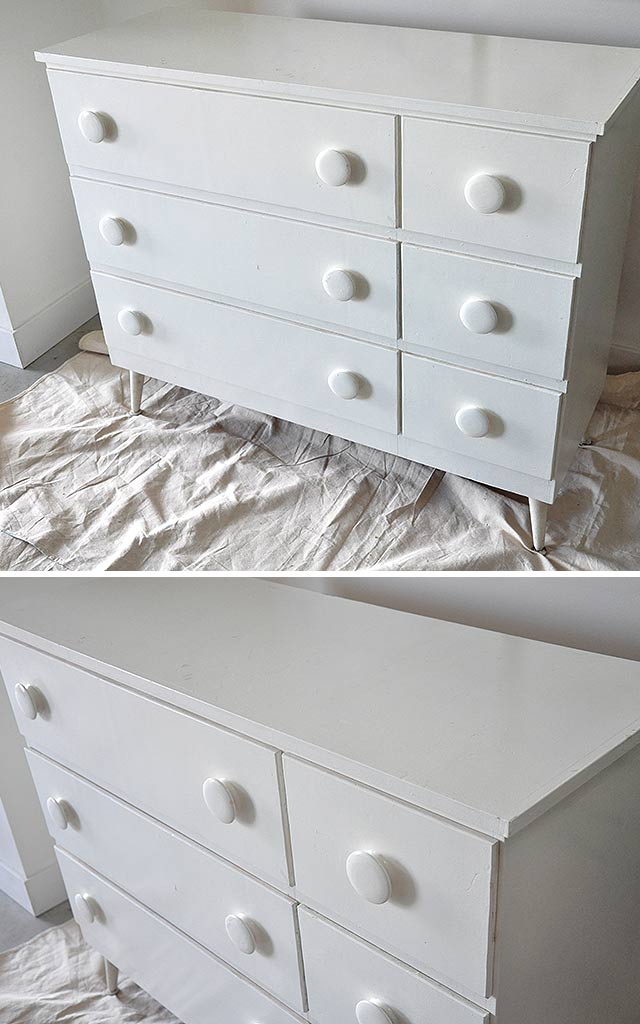 Removing those giant round wood knobs. I freaked out for a second when I saw they were fused with several coats of paint right onto the dresser as well as a screw in the back. I unscrewed them, but this didn't make a difference at all, because the layers of paint were holding them in place. I tried to break the paint seal with a blade, but that started to become too dangerous, so I broke out the hammer! All it took was one smack on the edge of the knob and they popped right off! *happy dance*
I also removed the little metal feet on the bottom of the legs. They were in horrible condition, covered in paint and practically falling apart, you'll notice in the after photos how much cleaner it looks without them.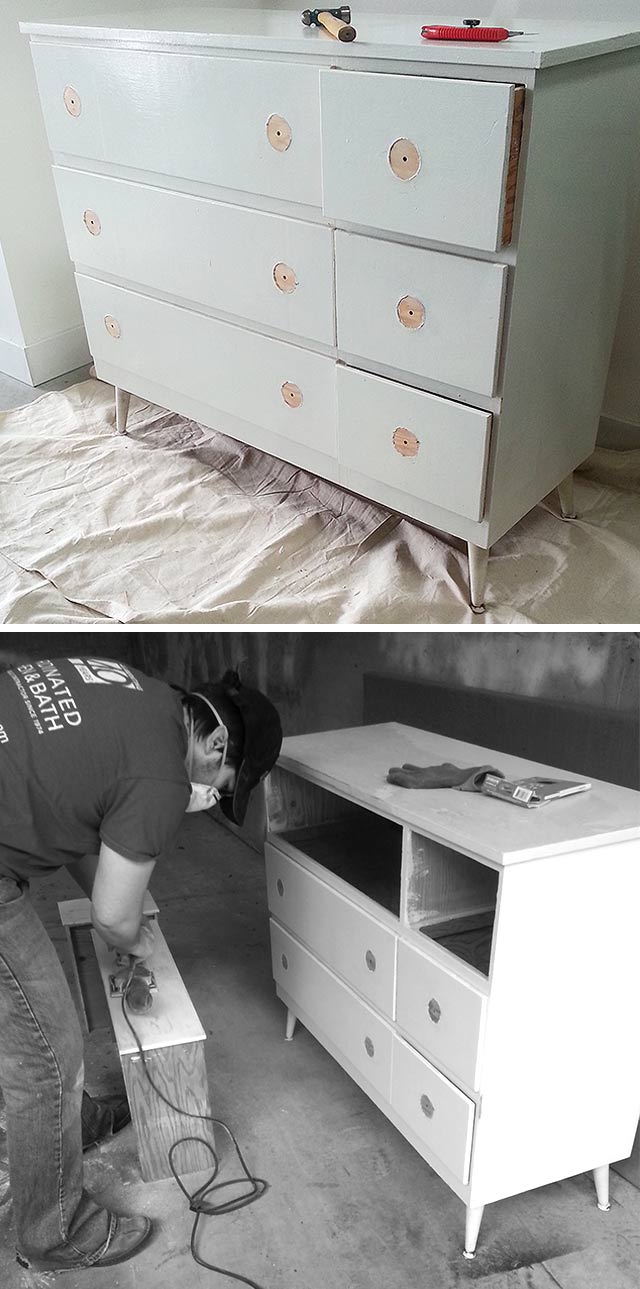 After an hour of sanding, three coats of primer and three coats of paint, the waviness was still visible! Luckily you could only see it in certain light, actually, you can barely see it in the photos, but look closely at the small middle drawer and judge for yourself.
On the positive side, Benjamin Moore's Tropicana Cabana is such a beautiful bright colour, so it takes your eyes away from any minor issues. Once we added the hardware it further distracted your eye. We used modern brushed nickel hardware, you can find similar hardware at Home Depot.
Every vintage dresser we've worked on has it's own unique issues, but most have this problem, the drawers don't slide smoothly. A great tip for improved….sliding? Grab a piece of wax, I used a small Ikea tea light candle. Rub it along the bottom rails of the drawer a few times and when you put the drawer back in place, it'll slide real nice.
In the end, I had to come to terms with the fact that I'm fixing up vintage furniture with years of wear and tear (character), so the odd difficiency comes with the territory and should be embraced.
I'm quite happy with the final results: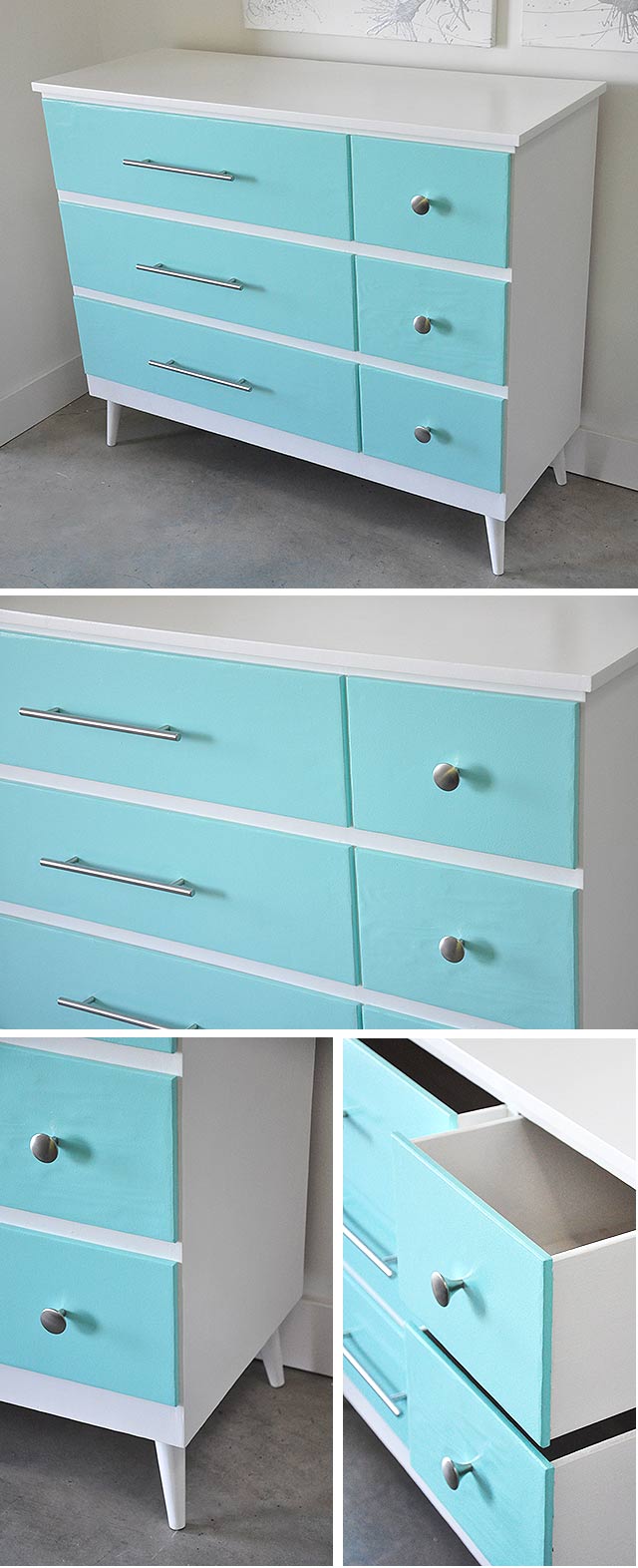 I've started to notice a trend with my last few projects, expecting mothers and young families have been buying them for their nursery. They make great storage, an excellent changing table and add a fun pop of colour. This particular piece is going to a friend that's expecting!