As soon as we got the keys to our place we got to work by quickly ripping out the laminate wood floors and selling them on craigslist (surprisingly they sold within a few hours). The floor was about 80% salvageable, there were a few places with water damage and wear from bad installation. Luckily they were just floating floors so they came up really easily. We were crossing our fingers that the concrete floor underneath would be in perfect condition, natural grey and sealed. Oh boy were we wrong….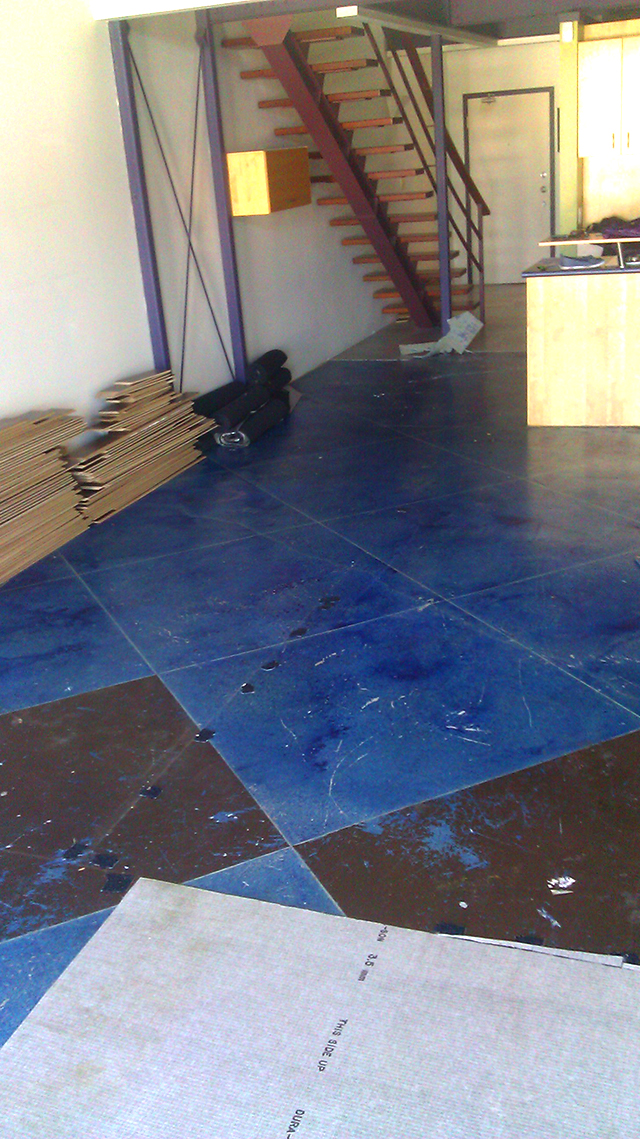 It was ugly, really ugly. They had painted brown diamonds on the floor with watered down blue. The worst part was it looked like someone used a mop to apply it, because it was all swirly and brushy.
At first I wanted to give up on having nice polished concrete floors, I thought, lets just install some nice affordable hardwood flooring. The problem was we really didn't have the budget, because we were doing a full kitchen renovation and 2 bathrooms, and painting the entire space.
So I frantically called several places to quote on grinding off the blue paint and polishing it after. Who knew it would end up being cheaper than installing wood flooring. So we went for it. It took forever! Turns out they under quoted us, because the work ended up being more intense than they expected. The blue paint had actually stained the concrete and really saturated into it, to this day you can still see slight blue tints in the floor and the occasional blue fleck.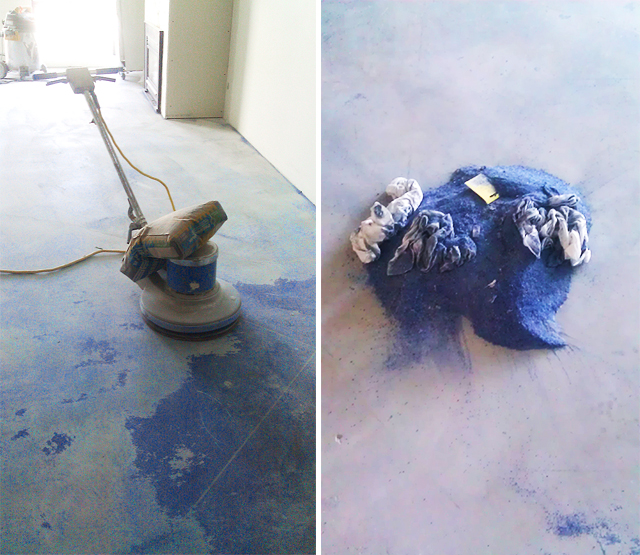 The process took a about 5 days. Most of the time was spent grinding off the blue paint and using hand tools to chip away at bits that wouldn't come off with the machine. The last steps were to wash and dry the floor and lastly apply the sealer and let it dry for about 2 days.
I went with a semi-gloss sealer, but after over a year of living here I regret not using a high-gloss finish. I was initially worried it was going to be too shiny, I didn't want that wet look, but what I didn't realize was that it goes matte pretty quickly. Someday I'd love to roll on a gloss finish ourselves, but the thought of moving all our furniture around and sleeping in here with all the chemical smells doesn't sound all that fun. Honestly though, the floors are beautiful and a million times better than that ugly brown and blue combination. I just have to look at that before photo to remind myself just how awful it really was.