Here's my super easy, super moist Lemon Loaf recipe, made with yogurt instead of butter.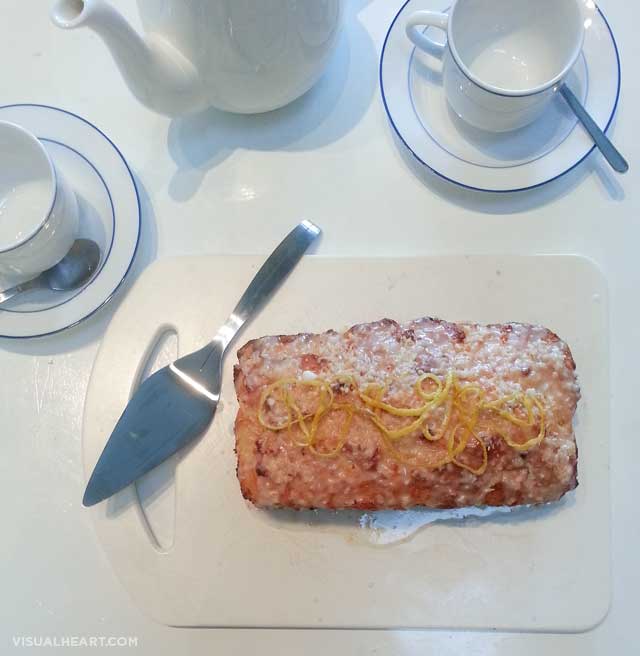 Ingredients:
1 ½ cups all-purpose flour
2 teaspoons baking powder
½ teaspoon kosher salt
1 cup plain yogurt
1/2 cup sugar
3 extra-large eggs
2 teaspoons grated lemon zest (2 lemons)
½ teaspoon pure vanilla extract
½ cup coconut oil
Set aside:
1/3 cup sugar
1/3 cup freshly squeezed lemon juice
For the glaze:
1 cup confectioners' sugar
2 tablespoons freshly squeezed lemon juice
Directions:
Preheat the oven to 350 degrees.
Grease an 8 ½ x 4 ¼ x 2 ½-inch loaf pan. Line the bottom with parchment paper if desired.
Sift together flour, baking powder, and salt into one bowl.
In another bowl, whisk together yogurt, 1/2 cup sugar, eggs, lemon zest, and vanilla.
Slowly whisk the dry ingredients into the wet ingredients.
With a spatula, fold the coconut oil into the batter, making sure it's all incorporated.
Pour the batter into the prepared pan and bake for about 45 minutes, or until a toothpick comes out clean.
Then, simmer 1/3 cup lemon juice and the remaining 1/3 cup sugar in a pan until the sugar dissolves.
When the cake is done, cool for 10 minutes. Poke holes in the cake with a skewer, then while the cake is still warm, pour the lemon-sugar mixture over the cake and allow it to soak in.
When the cake is completely cool, combine confectioners' sugar and lemon juice, pour over the cake.
Garnish with toasted coconut and lemon zest if desired.